For this week's blog we were asked to attended or watch a lecture online and to comment on how the speaker presented their material and what our opinions were of it. For my blog I chose to attended a lecture put on by the geology department here at McMaster University. The guest speaker was Dr. Karyn Rogers from the Rensselar Polytechnic Institute, who presented her research on microbial survival in early earth environments. Which looked at how microbial populations can survive in many different types of environments some of which have been believed to be inhospitable. She suggests that because of how resilient some microbes can be, our perceptions of where we can find life in this universe and how life might have started on this earth need to be reconsidered.
Dr. Rogers, opened her presentation with a brief autobiography as to how she got to this point in her life. Speaking to the audience about how she always enjoyed studying geology and evolution. It was during this introduction that I picked up on the tone in her voice. It was clear energetic and confident. She came across as genuine and excited to be at McMaster to present her research. She didn't use a lot of jargon, and when she did, she made sure to explain how she was using the term. Which really helped the audience not only understand what she was talking about but also how she was using it in her own research. Throughout her lecture, she also incorporated a bit of humor into her lecture and for her final slide she used a comic showing another possible hypothesis as to how life on earth began outside of the RNA polymerization hypothesis. This tone,the spoke the odd bits of humor she dropped in really set the pace and atmosphere as it made the hour long lecture feel like thirty minutes.
In regards to the actual layout of her presentation, Dr. Rogers broke her presentation into two parts. Part 1 provided the audience with a background on the different theories that exist in microbiology surrounding microbial survival as well as an overview of some of the major parameters and environments that are commonly confronted in this line research. The image below titled: "Life in Context" illustrates the various factors that can have an impact on a microbes survival. Part 2 presented her research and how she went about studying and testing the RNA polymerization hypothesis. The RNA polymerization hypothesis suggests that, RNA cells were the earliest cells on earth and that they probably existed in mineral rich environments that were under high levels of pressure. While under this pressure, the crystals in minerals can change and trigger a chemical catalyst to take place within these early RNA cells, unlocking their genetic information and bringing about the earliest microbial populations. Overtime, these early cells would eventually evolve and DNA and protein synthesis would replace RNA's function.  Dr. Roger's research was interested in how different minerals can react under different degrees of pressure, and this in turn can have an impact on the chemical reaction within the RNA cells. What she found was that under different pressures, different minerals reacted, and this in turn affected when the RNA chemical catalyst took place.
Dr. Roger's present this data through the use of photos, videos, graphs and charts. These images showed what she was interested in, what her findings were and methods she used. This approach she took I thought was great, as it forced the audience to focus on her voice, rather than the powerpoint she had on screen. She also used the images to organize her train of thought and help guide the audience through her lecture. She made sure to always circle back to the bigger picture after the a major point was made.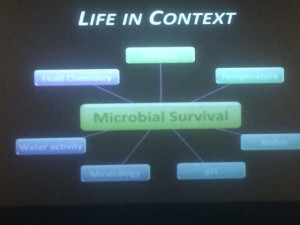 Dr. Roger's only used text to present important statistics, key words or for take away lessons and messages for the audience. She also made certain to circle back to her opening questions throughout her presentation to keep the reader focused on the objectives of her research. During her concluding remarks she made had a slide showing her initial questions followed by an animation with the answers to each question and summary of her findings.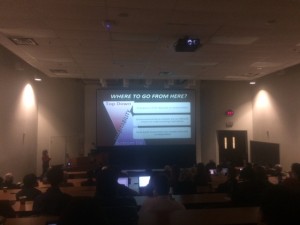 Overall, I thought this was a great presentation that kept the audience interested, engaged, that presented a clearly the questions she originally had when she started her research and the findings that she has found thus far. For someone who was not well versed in Microbiology, and Geology, I found I was able to keep up with her lecture fairly well. If there were things that I did get hung up on, the slideshow normally provided an illustration as to what she was saying, or she thoroughly explained it. As such I couldn't find anything really wrong with the presentation overall. There were a few videos that didn't work properly, and when this occurred she took the time explain what the video was suppose to be illustrating, and then asked if everyone understood. Another minor detail I picked up on was the choice of colours for her figures and charts. At times they were difficult to distinguish, but I don't really consider this a strike against her presentation as she was at the mercy of  lecture room's computer and projector.