'Students as partners' in learning and teaching in higher education has become a hot topic internationally in the last decade. According to Healey et al. (2014, p7):
"Partnership is framed as a process of student engagement, understood as staff and students learning and working together to foster engaged student learning and engaging in learning and teaching enhancement … It is a way of doing things, rather than an outcome in itself"
We are pretty good in higher education at listening to students and collecting their viewpoints. Students as partners goes beyond the student voice and involves students as co-creators, co-researchers, co-teachers, co-producers and co-designers in learning and teaching. Students as partners is an important aspect of student engagement, but not all engagement initiatives involve students as partners.
Developing the process of partnership requires recognition that working in partnership is an experience which may take both student and staff participants outside their comfort zone. The model below identifies nine values which underpin successful student engagement through partnership: authenticity, honesty, inclusivity, reciprocity, empowerment, trust, courage, plurality, and responsibility. Understanding and applying these values is critical in supporting the formation and development of partnerships.
Fig 1: Students as partners in learning and teaching in higher education: An overview model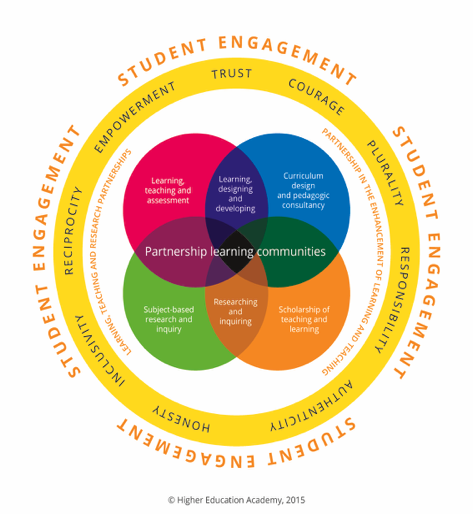 Source: Higher Education Academy (2015) Based on: Healey, M., Flint, A. and Harrington, K. (2014) Engagement through partnership: students as partners in learning and teaching in higher education. York: Higher Education Academy p.25. https://www.heacademy.ac.uk/engagement-through-partnership-students-partners-learning-and-teaching-higher-education
For an outline of the Healey, Flint, & Harrington (2014) model see the following video:
For a reflection on the model and its application see: Healey, M., Flint, A., & Harrington, K. (2016). Students as partners: Reflections on a conceptual model, Teaching and Learning Inquiry 4(2) 13pp