In 2018, Canada's three major federal political parties formed the All-Party Parliamentary Group (APPG) to End Modern Slavery and Human Trafficking, which resulted in the tabling of Canada's Modern Slavery Act (Bill S-211) in the senate last February. But beneath this apparent unanimity over legislation designed to make countries disclose the efforts they take to rid their supply chains of modern slavery and forced labour, are the parties distinctive frames of the problem and, thus, the solutions, to modern slavery.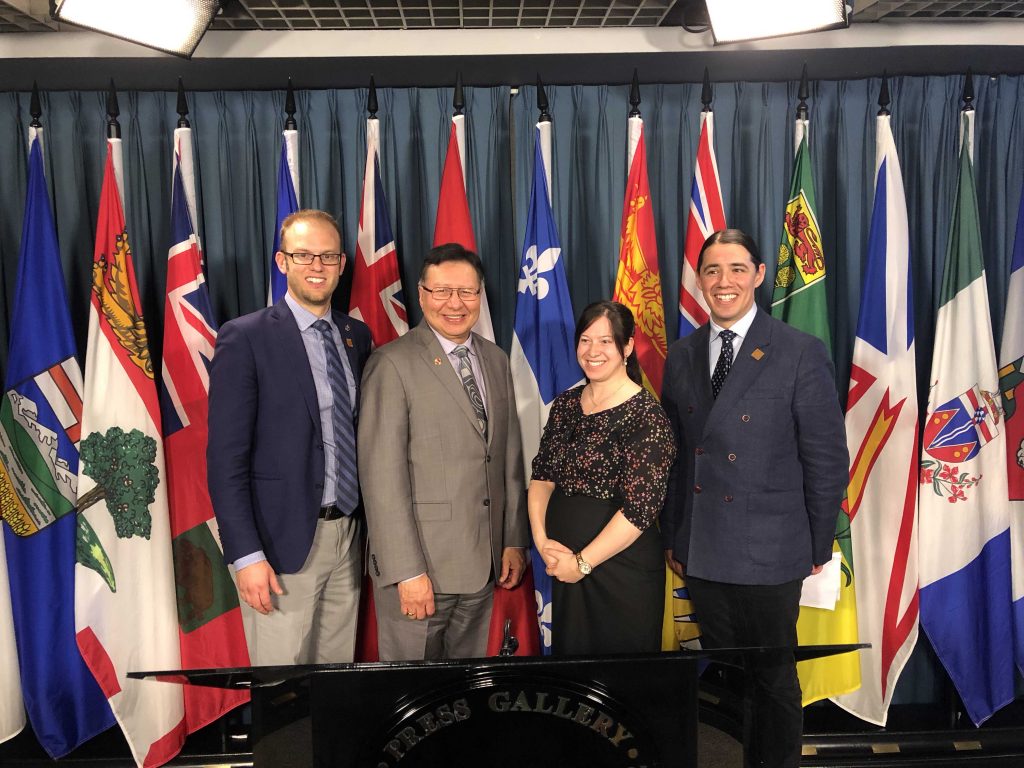 The governing minority Liberal Party of Canada (LPC) frames the issue of modern slavery as a global market failure. The LPC came to power with a majority government under Justin Trudeau in 2015 and managed to retain power in the 2019 federal election, albeit with a minority government. The Trudeau Liberals have a two-pronged strategy to regulate modern slavery: legislating amendments to the Criminal Code to combat sex trafficking; and their main approach, the negotiation of labour laws in international trade agreements that prohibit forced and child labour, the two most prominent forms of modern slavery in global supply chains.
The New Democratic Party (NDP), while generally amenable to the LPC's calls for market regulation, have a more radical take on the problem of modern slavery, which they see as a systemic and structural issue that inevitably results from unregulated capitalism. Both parties therefore push for economic regulation, but the form such regulation takes (and the extent of such regulation) is a point of contention between the parties.
By contrast, the Conservative Party of Canada (CPC) narrowly defines modern slavery as a criminal offense synonymous with human and sex trafficking. Rather than being a consequence of systemic inequality, modern slavery is seen by Conservatives as a social malady brought upon the innocent by the most perverse members of society – the pimps, predators, and child pornographers in organized trafficking rings that work in the shadows to sexually exploit women and children.
Three of the most recent trade deals negotiated by the LPC have followed the ILO's 1998 Declaration on Fundamental Principles and Rights at Work, which (amongst many other initiatives) commits signatory countries to eradicating forced and child labour from their supply chains. The Canada-European Union Comprehensive Economic and Trade Agreement (CETA), the Canada-Ukraine Free Trade Agreement (CUFTA), and the Comprehensive and Progressive Agreement for Trans-Pacific Partnership (CPTPP) were all carefully negotiated in order to (at best) eliminate or (at a minimum) monitor child and forced labour in signatory countries, 39 of which are covered by these three agreements.
The LPC has also haphazardly committed to establishing a neutral, third-party regulatory body to keep Canadian multi-national corporations (MNCs) in line with anti-slavery laws. In January 2018, the federal government announced its intent to establish the office of the Canadian Ombudsmen for Responsible Enterprise (CORE), an investigative unit independent from the interests of any industry or political party designed to inspect key at-risk areas for modern slavery and child labour, namely mining, oil, and garment production. In April of 2019, nearly a year-and-a-half later, Ralph Goodale (then the Minister of Public Safety and Emergency Preparedness) appointed Sheri Meyerhoffer as ombudsperson.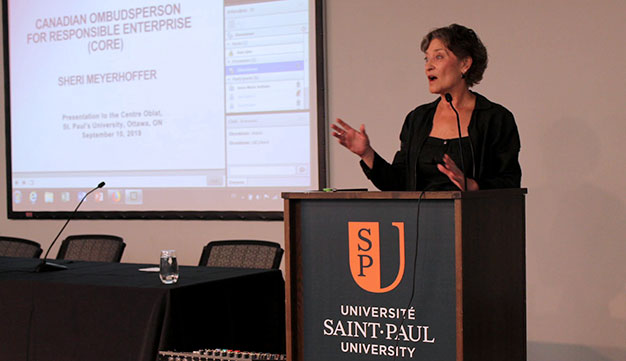 The Liberal's slow progress on CORE did not go unnoticed by the NDP, who have taken a harder line on economic regulation than the Liberals, and pressured federal government to be more proactive on CORE. Even after Meyerhoffer's appointment, the NDP was critical of her former career as an oil industry lobbyist and questioned whether she was the most neutral person for the job. Like the LPC, the NDP sees modern slavery as a structural consequence of unfettered capitalism, but their proposed legislative solutions reflect a staunch commitment to strong and centralized state oversight of global supply chains.
The NDP Private Member's Bill C-331 exemplifies the kind of regulation championed by the party. Bill C-331 proposed that Canadian MNCs could be tried criminally in Canadian courts by non-Canadians if the companies in question were alleged to perpetuate conditions of modern slavery. British-Columbia-based mining company Nevsun Resources, Ltd., accused of employing Eritrean miners in conditions that constitute modern slavery, was cited as inspiration for tabling the bill. Last February, the Supreme Court of Canada upheld the British Columbia Court of Appeal's decision in the Nevsun v. Araya case, edging the Canadian courts ever closer to setting a precedent that would hold MNCs accountable for modern slavery and forced labour conditions in overseas operations.
Criminal legislation as a possible avenue through which to combat modern slavery has been the primary strategy of the CPC, which aims to combat human trafficking by implementing strict punishments for traffickers, empowering law enforcement to better identify and prosecute trafficking rings, and providing services to victims of human trafficking. The latter measure has recently made major headway due to the CPC's support: the Canadian Human Trafficking Hotline, launched in 2019 by the Canadian Centre to End Human Trafficking (CCEHT), has been busy linking trafficking victims with appropriate social services and providing law enforcement with information that could be used to identify and prosecute trafficking rings.
In line with its tough-on-crime approach to trafficking, the CPC has attempted to block (or at the very least oppose) the Liberal government's passage of Criminal Code amendments that Conservatives believe are too lenient. Upon taking power in November 2015, the Trudeau government blocked the passage of Private Member's Bill C-452, which would have "provided consecutive sentences for offences related to trafficking in persons and created a presumption regarding the exploitation of one person by another." Bill C-452 received royal assent under the Conservative government of Stephen Harper in 2012 but was tossed out by the Liberals on the grounds that consecutive sentencing was unconstitutional. The Liberals replaced Bill C-452 with Bill C-38, and later omnibus bill C-75, which removed consecutive sentencing for human trafficking on the grounds that it violated the Charter's protection from cruel and unusual punishment.
Another point of contention for the CPC was the expiration of the National Action Plan to Combat Human Trafficking in 2016, a comprehensive criminal justice and victim's service reform strategy that was implemented by the Harper government in 2012. The Liberal's version, the National Strategy to Combat Human Trafficking 2019-2024 introduced by Ralph Goodale focused on the elimination of sex trafficking rings and victims service to the detriment of a comprehensive plan to tackle modern slavery in supply chains. Even then, much like Bills C-38 and C-75, the LPC's National Strategy was seen as an inferior and soft replacement to the stricter CPC variant. The CPC was also adamant that Private Member's Bill C-461 be ratified in order to operationally define exploitation in the Criminal Code and amend the Judges Act to mandate that human trafficking be required learning for judges in their routine continuing education seminars in order to assist with sentencing.
The formation of the APPG in 2018 synthesized the modern slavery debate in Canada and forced the three major federal parties to cooperate and produce tangible policy outcomes on the issue. What has resulted is an uneven compromise wherein the CPC and the NDP have had to settle for the LPC's approach to combatting modern slavery through ILO resolutions and trade agreement clauses. In theory, APPGs should balance the viewpoints, perspectives, and solutions forwarded by each party. As even a brief reading of Bill S-211 will show, however, this has not been the case. Bill S-211 is essentially a repackaging of Liberal MP John McKay's Private Member's Bill C-423. Its focus is on supply chain transparency, import/export regulation, and corporate social responsibility (CSR). Virtually none of the sex trafficking issues raised by the CPC are addressed, and the proposed $250,000 fine that companies who do not report to the federal government incur do not match the NDP's commitment to strict state oversight of MNC activity. The fine would merely allow MNCs to pay their way out of any real culpability for modern slavery in their supply chains.
Bill S-211 represents the commitment of all federal parties to implementing a comprehensive piece of modern slavery legislation, rather than settling for incremental reform by amending existing criminal and economic legislation. But in its current form, Bill S-211 eschews the sex trafficking dimension of the modern slavery debate and assigns a lenient fine to MNCs for failing to report their anti-slavery measures. Progress on modern slavery legislation in Canada has therefore come at the cost of a nuanced understanding of the issue and a strong corporate regulatory regime.