G20 Labour and Employment Ministers, the International Labour Organization (ILO), the International Trade Union Confederation, human rights foundations and academics have identified supply chains as a global vector of forced labour and modern slavery. The challenge is how to eradicate forced labour from supply chains, which before the pandemic, made up 50 % of global trade.
Since 2012 there has been a spate of laws requiring multinational corporations (MNCs) to engage in corporate social responsibility (CSR) measures to rid their businesses and supply chains of forced labour and modern slavery. These "modern slavery" laws give effect to international human rights norms by leveraging the market power of corporate actors in the Global North to enforce labour standards and labour rights in the Global South. In 2016, the United Nations adopted the eradication of modern slavery and forced labour by 2030 as Target 8.7 of its Sustainable Development Goals (SDG), which put pressure on countries to introduce modern slavery laws. Two years later, Australia, Canada, New Zealand, the UK and the USA agreed to four new principles for governments to combat modern slavery in global supply chains. These are:
1. encourage business to address modern slavery in supply chains
2. tackle modern slavery in public procurement processes
3. advance responsible recruitment practices; and
4. harmonize these laws and policies across jurisdictions.
How has Canada responded to the global pressure to enact legislation that requires business to address modern slavery and forced labour in supply chains?
In 2016, Canada's Standing Committee on Foreign Affairs and International Development adopted a motion to investigate and report to parliament on the use of forced labour and child labour in Canadian supply chains. After a two-year consultation process where the Standing Committee heard from a variety of stakeholders ranging from corporate actors to faith-based NGOs, the Committee presented A Call to Action: Ending the Use of All Forms of Child Labour in Supply Chains to Parliament.
A Call to Action formed the basis of Private Member's Bill C-423, Canada's would-be Modern Slavery Act, introduced to parliament in December 2018 by Liberal MP John McKay. Bill C-423 would have implemented all the recommendations of A Call to Action and established an inspectional body under the office of Public Safety Canada to enforce compliance with modern slavery laws in Canadian supply chains. Bill C-423 never made it past its first reading, however, due to a lack of consensus amongst Canada's political parties over how best to tackle modern slavery (LINK TO BLOG 3 HERE).
The All-Party Parliamentary Group (APPG) To End Modern Slavery and Human Trafficking was formed 6 months prior to the Subcommittee's release of A Call to Action, and has since taken the lead on legislating against modern slavery and its myriad forms in Canada. Since its formation in April 2018, the APPG – co-chaired by Conservative MP Arnold Viersen, Liberal MP Robert-Falcon Ouellete, and NDP MP Christine Moore at its formation and Viersen, independent senator Julie Miville-Dechêne and John McKay in its current form- have drafted supply chain transparency legislation and held further consultations with stakeholders to inform modern slavery legislation.
Most recently, the APPG repackaged Bill C-423 as Bill S-211, introducing it to the Canadian senate in February 2020 in the hopes of reigniting the legislative drive for a comprehensive Modern Slavery Act similar to those found in the UK and Australia. No further debate on the bill has occurred since the outbreak of COVID-19 due to limitations on parliamentary and senate meetings, leaving Canada's legislative drive against modern slavery in an uncertain limbo.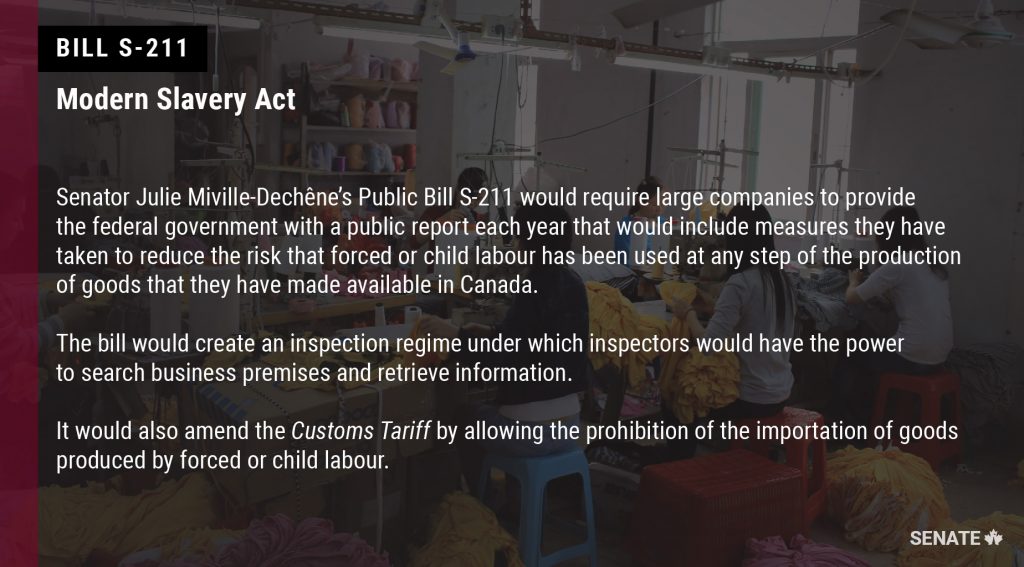 In January 2018, the Liberals announced that the office of the Canadian Ombudsperson for Responsible Enterprise (CORE) would be established in order to monitor Canadian corporations and ensure they met the standards set by Public Safety Canada to eliminate child and forced labour from Canadian supply chains. Nothing was done by way of setting up the office for nearly a year and a half until pressure from the NDP forced the federal government to appoint Sheri Meyerhoffer as ombudsperson. Even then, the government still insisted that further investigation was needed to determine what powers the ombudsperson and their office would have when investigating corporate entities. Meyerhoffer's former career as a lobbyist and consultant for the oil and gas industry in Alberta also called into question whether she could fairly regulate corporate interests.
Canada's legislative efforts to address modern slavery have suffered from the disparate and incremental nature of proposed reforms to the Criminal Code and previous national strategies. This has contributed to Canada's failure to successfully pass a modern slavery act, as the federal government cannot cohesively frame the issue and form an appropriate solution.