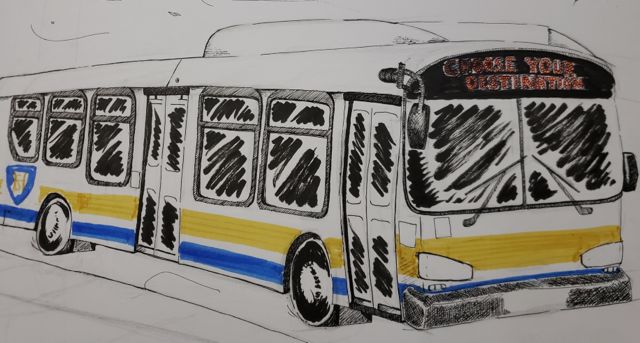 How do we get from here to there, from now to a hoped-for then? What is the role of the imagination—individual and collective—in transporting us to our desired future destinations? It's wonderfully fitting that Choose Your Destination…, a play by four young women connected to Good Shepherd Youth Services, had its debut performance during the week of International Women's Day, a day that serves as potent reminder of the power of imagining better futures and of working together to collectively manifest those visions.
A Transforming Stories, Driving Change production, Choose Your Destination, tells the story of four young women from different backgrounds, all living in a city much like Hamilton. While the play's fictionalized characters—Amelia, Moon, Joanne, and Snow—are not friends at the beginning of the story, they frequently cross paths on a bus travelling the "Choose Your Destination" line. The ride is far from smooth, and the stops they make along the way don't always get them what they want, but the youth get back on board time after time to try again. As they travel, they share stories about their lives, and support each other through good times and bad.
Support & solidarity
Just as Amelia, Moon, Joanne, and Snow didn't know each other at the beginning of their fictionalized journey, the real-life youth who played these characters were strangers at the start of the Transforming Stories performance workshop creation series. From the start of the workshops, however, support and solidarity emerged as common concerns. For example, in one of the first sessions, after a series of warm up exercises the youth were invited to create an "image" of a better future Hamilton. "Think of it," Catherine said, "like a postcard that you would send your friends to show them what a great place this is for people like you."
Here's how "image theatre" exercises work: One person initiates an image by entering the "playing space," making a gesture, and freezing. One at a time, the remaining workshop participants add to the image by creating their own gestural response and freezing. Much like in a comic strip or graphic novel image theatre can act as a kind of "live storyboarding" technique, where a story is created through a series of still images.
In one of the early images the youth created, "N" began by standing on one foot with outstretched arms while her other foot was in the air. The gesture was precarious and difficult to maintain. "C" entered the scene, knelt beside N, and gently supported N's hovering foot, "M" then knelt on the other side of N and supported her outstretched arm … 
What was striking about this, and other images the youth created, was that while their imagined future was not one in which everything was resolved, it was one in which they were able to both give and receive the support they needed. The images didn't just document life as Hamilton youth experience it; they also showed what these youth value, the kind of relationships they want to build, and the ways they want people to help each other in a better Hamilton.
A place to chill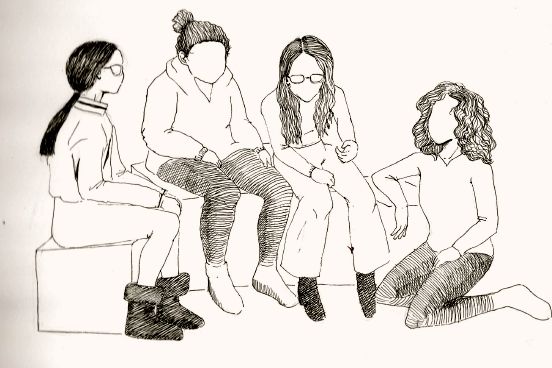 Some of these images were surprising in their simplicity and power. One early image—this one of the youth huddled together to watch Netflix—became the play's closing scene. Stepping away from problem-solving in their fictional world, the performers create a dream sequence where the youth rearrange the seats of their makeshift bus and transform it into a couch that faces the audience.
Joanne: You know what would be nice right now? Right now. This destination, taking us to a spot where we could just chill, nothing to worry about.

Moon: A place where we could all just relax, somewhere with a huge TV. We could all just watch Netflix and hang out.

Snow: maybe something like this… (she starts to move the seats and the others follow her lead)

Joanne: Okay, but no horror movies, because I hate horror movies. 

Amelia: …and popcorn, but the fancy kind—with extra butter.

Moon: Don't have to worry about late bills…

Joanne: …late bills, imagine being in a place long enough to set up the wifi …

Snow: …imagine being safe and happy

Joanne: Girl, you're dreaming…

Snow: yeah, but isn't it a nice dream…

All: [sigh, nod and look out into the audience]