Transforming Stories, Driving Change plays are developed during 12 – 15 week long workshop series. For a behind the scenes look at what takes place during the workshops and insight into the collaborations involved in producing TSDC plays check out our free online workbook. But first —  a quick introduction to TSDC's four plays and the people who created and performed them!
CHOOSE YOUR DESTINATION
Erskine Presbyterian Church, 19 Pearl St. N., May 4, 2019.
Created with youth connected to Good Shepherd Youth Services Choose Your Destination tells the story of four young people from different backgrounds, all living in a City much like Hamilton. While they're not friends at the beginning of the story, they frequently cross paths on a bus travelling the "Choose Your Destination" line. As they get on and off their makeshift bus — frustrated that they can't afford a place to live, trying hard to get more hours at work, navigating food banks and social services, betrayed by many of the adults around them — we come to see why their dream, so simple, is also so powerful: they want the chance to relax together, somewhere safe.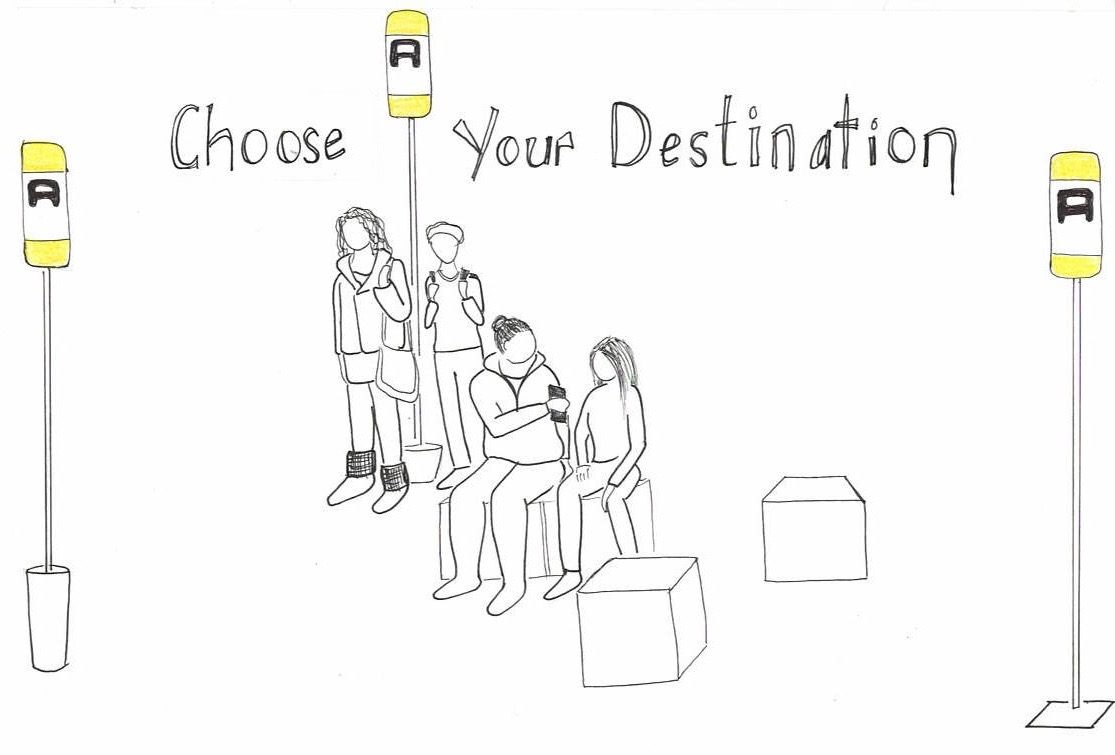 WHEN MY HOME IS YOUR BUSINESS

Gathering on Art, Development, and Gentrification, Nov. 11, 2018.
Canadian Alliance to End Homelessness National Conference, Nov. 5, 2018.
McMaster Centre for Continuing Education, May 2, 2018.
When My Home is Your Business was created with people involved in the Social Planning and Research Council of Hamilton's [Dis]placements Project — people who know about the difficulties of holding on to decent rental accommodations in a rapidly changing Hamilton. Alice, Sami, Hannah, and Emma, the play's four fictionalized characters, meet every day at the elevator, never knowing if it will go up, or down, or nowhere at all. They are exasperated with the building: things are noisy and broken and the landlord is only interested in renovating empty apartments that could bring in higher rents. Yet still the four work every day to make the building home: fixing what they can, sharing their frustrations, advocating, reassuring each other, bringing beauty to the place. The play asks questions about what happens when you think of a place as home, but to the people who own the building, it's just another business opportunity. Can neighbours work together to make and sustain a home in a profit-centred enterprise? Can they do it even if they're not the best of friends? Whose business is it if they can't, or if they do?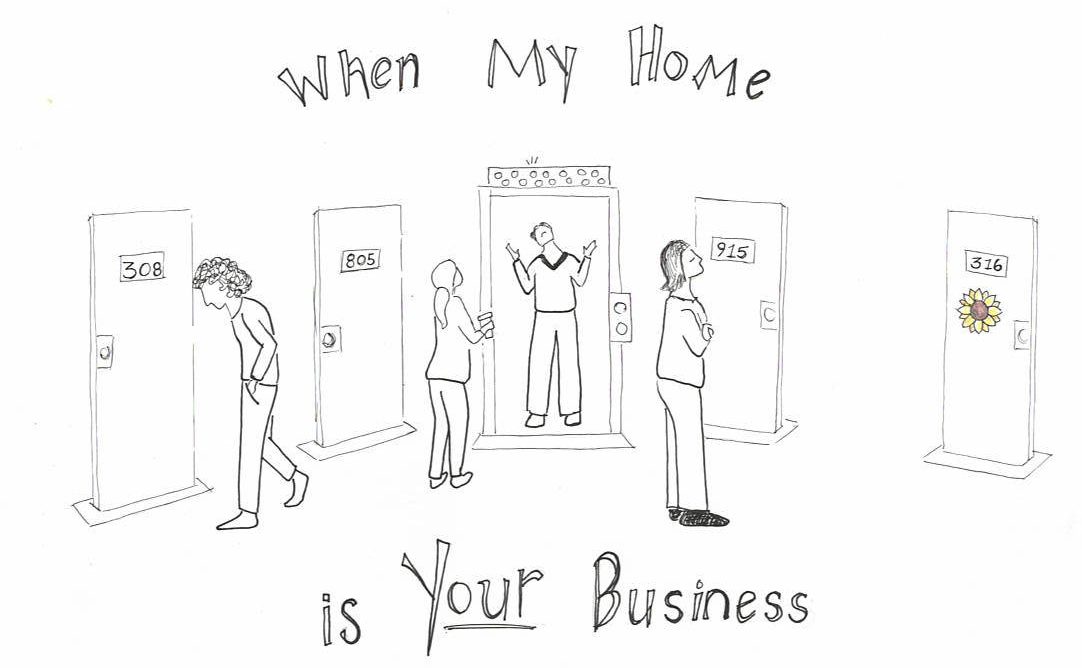 WE NEED TO TALK!
David Braley Health Sciences Centre, McMaster University, (Performance Exchange with All of Us Together), June 12, 2017.
Social Work 1A06, McMaster University, Feb. 28, 2017.
McMaster Centre for Continuing Education, (Performance Exchange with All of Us Together), June 24, 2016.
Social Work & Labour Studies 2B03, McMaster University, Feb. 8, 2016.
We Need to Talk! was created with women connected to the Women's Housing and Planning Collaborative Advisory of Hamilton. The performance shows five women repeatedly approaching three different social service agencies (Income Support, a Foodbank, and Housing Support) to get help with the many things they must juggle, which are symbolized on stage by the five or six large paper-mâché rocks that each woman carries with her at all times. Unfortunately, as the performance demonstrates, the small boxes the agencies can make available are rarely big enough to contain the rocks and are very hard to access for women who already have their hands full. Frustration mounts through the performance until the women look at each other, drop all the rocks on the agency tables, step out of character, and say directly to the audience: "This isn't working. We need to talk!"
ALL OF US TOGETHER
David Braley Health Sciences Centre, McMaster University, (Performance Exchange with We Need To Talk!), June 12, 2017.
McMaster Centre for Continuing Education, (Performance Exchange with We Need To Talk!), June 24, 2016.
Created with community and self-advocates recruited from Speak Now, the Speakers' Bureau of the Hamilton Roundtable for Poverty Reduction, the Transforming Hamilton Stories pilot project All of Us Together explores what Hamilton might look like if people came together to help each other address social concerns. The performance begins with each performer holding a ball of coloured ribbon that contains a story of a City. The ribbons tangle as the play's four characters tell of their struggles with healthcare, landlords, hunger, and parenting in the face of poverty. Dreams for a better future risk being caught within the knotted tangle of difficult social conditions until the performers start to look out for one another by weaving webs of connection. In the performance's closing scene the performers drop out of character, look out at the audience, and ask, "Who will you stand beside?" and "Whose dreams will you fight for?" The scene ends with the performers tossing their ribbons out to the audience as an invitation to participate in a community web of solidarity.