Lately, we've been thinking a lot about how we maintain and nurture the amazing connections and relationships that have been forged through TSDC's performance creation workshops, performances, and performance exchanges. One way this exploration has been taking place is through a series of monthly Sustaining Connections gatherings this fall. In August we sent an invitation to everyone who had performed in a TSDC play over the last 5 years "to come share some food, chat, and play a few theatre games." We let folks know that we are currently not in a position to consider new performances or re-mounting performances we've already done, but that we wanted to explore how people might want to stay connected to the project. With no promises, just an invitation to gather, eat and explore together, we weren't sure what to expect.
Within hours, RSVPs affirming participants' desire to attend began rolling in. Good Shepherd generously offered to provide food and a space to gather. At our first meeting we collectively decided that we would meet monthly through fall, and open the group to invited guests. For our September meeting, we invited everyone to bring an object and consider the following prompt as preparation to share in a story circle:
Imagine what Hamilton might be like ten years from now if it were to become a much better city. What do you imagine life would be like in that much better Hamilton for people with experiences like yours?  Please bring an object that will help you tell a 1-3 minute story about something a person with experiences like yours might do in a much better Hamilton 10 years from now. How would life be different for them?
We held two storycircles and closed the evening with a group response round of,
these are stories of people who… 
At our November gathering two performers from We Need To Talk! took a moment to reacquaint themselves with the props from their performance (the beautiful paper maché rocks made by Melanie Skene, TSDC's production coordinator and set designer).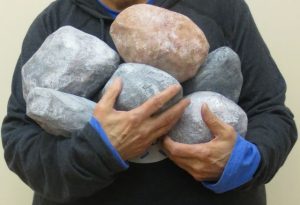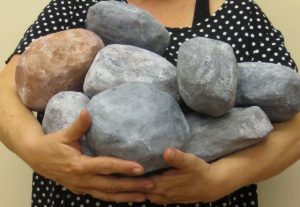 …and, we explored zine-making — a daring new venture for many/most of us! (Thanks to Melanie Skene and Jennie Vengris for showing us the ropes.)
zine-making
zine pages
We concluded our fall gatherings with a December potluck that was as rich with offerings of spirit and conversation as it was with food!
…and made plans to reconvene in the new year!