Our in conversation with … series of posts introduces readers to the people behind the Transforming Stories, Driving Change project. These are the artists, researchers, and community participants who desire Transforming Stories to make a substantive contribution to civic engagement in the city of Hamilton.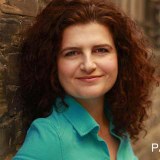 Paula Grove is a theatre director, teacher, and performer who is the Assistant Director on Transforming Stories, Driving Change.
How were you introduced to Transforming Stories, Driving Change?
I am a theatre artist, and I have worked with other artists participating on Transforming Stories. The project team brought me on board to work as a theatre coach.
What do you like about Transforming Stories?
In Hamilton there is a great need to keep a dialogue going between all the various constituents of our city. It's alarming to watch as some people become more and more marginalized. They feel their voices matter less and less. They feel they have less and less agency to make change. They often feel very alone, misjudged, disrespected. At first our participants may not believe there are any solutions to their problems but this project, at the very least, helps them to express what's happening to them. That alone seems to give them a sense of renewed power. Then, as we begin to explore solutions, it's quite extraordinary how creative their ideas can be. In fact,  these people exhibit exceptional creativity. After all, great creativity is required every day of their lives as they tackle the challenges of living in poverty. I'd even say they are creative problem-solving geniuses compared to most people living above the poverty line!
With our help the participants can overcome any trepidations about performing and this has a spillover effect as they develop confidence and a stronger voice. They also develop their capacity to collaborate with other participants. They feel less isolated and strengthen their sense of trust in others in the community.
I know the transformative power of theatre from my own life: I have lived experience of some of the issues that this project is interested in and have used theatre to tell my stories. It's been very empowering for me and so I know it can be for others too. It's a great privilege to share this journey with our participants. I feel really excited by what I've seen so far.
If you were going to invite someone from the community to participate on Transforming Stories, what are some pieces of advice you might give them?
Past participants have talked about what participating on this project has done for them personally. And it's so moving to hear. They have developed a lot more confidence. They've created new friendships. They feel heard. They feel empowered. They have become more vocal in their community. And they feel that they have agency. Basically, seeing their confidence grow, that's what is really inspiring.
And actually, they have been making changes because decision-makers have seen their work [from the Transforming Stories pilot conducted in 2016]. They said at our last meeting, "You know the food bank has changed the way they do things. We feel we've had a little part in that because of the show we did for them, and they saw what we were concerned about." I mean that's huge! There's no proof that their performances directly changed their food bank situation, but there's a reason to think they had a strong influence.
And oh yes, it's fun!