As is true for so many of us during this time of COVID-19, the pandemic's prescription to physically distance has compelled us at TSDC to shift our focus. This has involved letting go of all performance-related activities, launching a virtual storytelling exploration, and redirecting our energies into the production of an online workbook outlining key elements of the TSDC performance creation process. As part of our thinking about the workbook, we've engaged in a series of conversations about different aspects of TSDC's creative approach.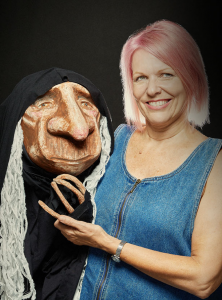 In this post, Melanie Skene (TSDC's set designer and production manager) traces a conversation between herself, Catherine (Graham), and Helene (Vosters) about TSDC's design aesthetics. Melanie, Catherine and Helene discuss various design elements and the considerations that inform them, of the four plays that participants have put on to-date: We Need To Talk, All of Us Together, When My Home is Your Business and Choose Your Destination.


Helene: The two of you have worked together through four projects. When you're working together at what stage does the set design come in? Is it part of the conversation from the beginning?
Melanie: It's not right at the beginning. We begin with the theatre exercises and see what comes out of them.
Catherine: We have a lot of conversations before we get to a decision about what's needed, what's working, or not working? For example, with the rocks [from We Need to Talk] we initially did a warm up exercise where participants were asked to imagine going up to a service provider and were invited to 'Say what you're expected to say,' and then go back up and 'Say what you'd really like to say, but that you wouldn't say because you wouldn't get the service if you said that.' The participants had great fun doing that and a lot of really interesting things came up. We came back about two months later and said 'We'd like to try working with that again' — and it went absolutely flat — they were repeating something. But I depend on repetition to see what will come, what keeps floating up. So we'd done it quite a few times and one of the performers went up and just said "Please, please, please, Thank you, thank you, thank you". I thought 'yeah that's exactly what's happening, you just nailed it,' and I remember you (Melanie) and I having a conversation about what we felt was missing and at some point saying 'they need something — we need to see what they are carrying with them.'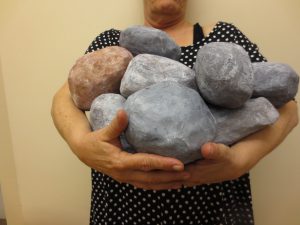 M: The scene needed something physical to make visible what the women were dealing with because clearly what they were communicating was that the service providers weren't getting it.
C: But our sense of that wasn't really coming out of what they did in that exercise. It came out of what we talked about together after they did the exercise, what people were discussing was "look I'm already dealing with this, I'm already dealing with that." And we often heard similar things over lunch or over snacks and the end of the workshop. The women kept coming back to the idea that service providers were not seeing the whole picture of their lives.
Artistic recycling 
H: One thing I really appreciate about the TSDC design aesthetic is how the sets read as affordable and therefore accessible. They communicate a message that you don't need a lot of money or resources to be creatively expressive, to speak.
M: Yes and this is something that has underpinned a lot of my work; there is a certain degree of accessibility to it. A lot of it is made from…you know…garbage! I use materials such as paper bags and cardboard boxes that would otherwise go into the recycling bin. Well, it's recycled in a different way.
C: It's kind of artistic recycling, or upcycling.
H: I also think the do-it-yourself aesthetic of the set design is important. Again, it communicates that in order to put on this production, 'you don't need to go out and buy four doors and have a truck to haul them around.' I've seen a lot of magnificent performances, but often they feel totally out of reach. Having a design aesthetic that conveys accessibility feels important to the TSDC's larger mission or values. It's in keeping with the project's overarching messages that you can be part of this public discourse, you don't need to have these really specialized vocabularies — you don't need to be a member of city hall. Everybody should be able to participate in public discourse. For me the do-it-yourself material aesthetic fits in with that aspect of the project.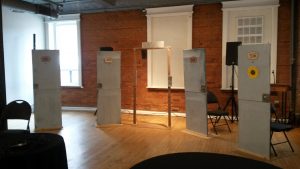 M: I don't think our culture respects that enough. We tend to place our admiration on high-end, highly polished work, big budgets and high tech; we don't see it but that usually requires highly specialized knowledge and skills.
It reminds me of an article "The Nature of Beauty in Contemporary Art" by Suzi Gablik about the role of beauty in art. She explains how the 'art market' has been responsible for narrowly defining the aesthetic of art as one that is purely devoted to beauty while being divorced from any social context while art that is engaged with the world will necessarily be of lesser aesthetic quality. But for Gablik, artistic quality is actually intensified when art is created in response to the world or appeals to people to help create a better, kinder more compassionate world. Aesthetic quality is more about the intention behind artistic creation rather than the art objects themselves.
She wrote about this in the early 90's and there certainly has been a lot of acceptance of socially conscious and community art since then. Of course, under capitalism, big box craft stores still want to you to buy new materials, and items perfectly made by corporate machinery, for your DIY art projects. It can be challenging for the average person to see how to make art by using what is already around them.
Most people don't see the creative potential value in that piece of garbage and how it can be used to express something else, and something beautiful, other than what it is.
C: It also makes me think about what many artists and performances studies researchers have pointed out, performance allows us to see that it's human labour that makes change happen. You don't need some fancy technological solution; human labour can make this world change. They believe that an important ingredient of social change is for people to understand that through your actions you can change your environment; you don't have to wait for somebody to change the environment for you.
You don't have to have some super high level of technological skill. That said, I don't want to underestimate the amount of knowledge and skill that you (Melanie) bring to designing TSDC's sets. The tension between DIY accessibility and experience is something we've been thinking a lot about with TSDC.
It would probably be a mistake to say all you need to do is, 'Get together a group of people who have never made theatre, have never thought about theater, and just do it!' I don't even want to say it's a mistake but I mean having some experience makes it possible to work more effectively. It's kind of like Diana Taylor's 'repertoire,' we have a certain repertoire of things that we will happily pass on, but you can't start at zero.
M: That's true; my practice has definitely changed over the years, and what I create has definitely changed from when I started.
C: It's not like every individual has to invent these techniques by themselves, they can be passed on.
M: Absolutely…there are people who have the knowledge I need and now I need to find them. Sharing of information is really important — we share about how to make theatre and it would be nice to share information about how we create sets and props.
H: That's another thing that's fascinating to me about the labour aesthetic, just because it takes work to make or do something, doesn't mean that it's not fun. Doing that work together when there's meaning that underpins it builds relationships. The social world teaches us that work and life are separate.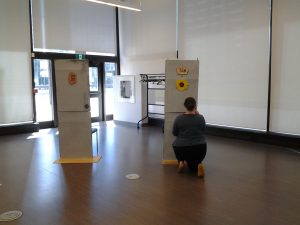 M: I find the work of making theatre sets and props for TSDC very meaningful, pulling from what is around me, being grounded by the materials, I also enjoy the responses of the participants to the sets and props that help them to tell their stories.
C: What you're saying reminds me [of Richard Sennett's book] The Craftsman. He argues that what marks something as a craft practice is when anyone from a surgeon to a carpenter takes pleasure in the work itself. The work is not simply a means to an end. There's pleasure in the labour itself. And to go back to the other thing you said — no it's not perfect, and the performances aren't perfect, and the scripts aren't perfect and they're still extremely meaningful.
In fact, they are probably more meaningful than they would be if the labour with all its rough edges wasn't visible, it conveys that people really want to tell this story and that you can tell a moving story based on the materials of your lived experience. And importantly, theatre allows you to do it without exposing your private life.
Works cited
Gablik. (1998). "The Nature of Beauty in Contemporary Art." Renaissance Universal, Retrieved December 18, 2019.