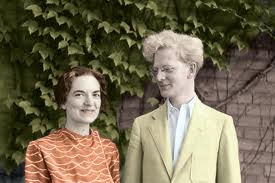 Helen Kemp Frye's Writings on Art
An E‑Book
Compiled and edited by Robert D. Denham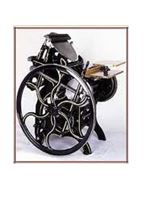 Iron Mountain Press
Emory, Virginia
2012
Introduction
 Before enrolling in Victoria College, Helen Kemp had studied at the Danard and Hambourg Conservatories of Music and from the latter earned an associate diploma.  The reviews of her performances while she was a conservatory student recognize her considerable talent as a pianist.  She was no less interested in art.  During her first year at Riverdale Collegiate Institute, where she received the highest standing in the first eight forms, she took part in the Saturday morning classes at the Ontario College of Art.  Before enrolling at Victoria, Kemp had entertained the idea of specializing in art.  This was an interest fostered by her father, who, early in his career, had been an associate of Arthur Lismer and Tom Thomson.  Kemp's letters to Frye contain a number of whimsical line-drawings, but even the best of these hardly suggest the genuine talent she had as an illustrator, which is revealed in the sketch-books that have been preserved and in the map she drew of the University of Toronto campus.  The latter is a genuine tour de force.  Although she never pursued drawing as a career, art, especially practical art, remained a central interest throughout her life.  When she was a young woman, this interest developed in the direction of art education, and in the letters from the mid-1930s we see the role played by Arthur Lismer, who was educational supervisor at the Art Gallery of Toronto, in launching her career in adult education at the Art Gallery of Toronto.
At the initiative of Lismer, Kemp had become an assistant at the gallery in Toronto during the second week of October 1933.  He had learned that the Canadian Committee, established by the Carnegie Corporation to study the problems of Canadian museums, wanted to train recent university graduates for museum work.  The plan had two phases: students were to gain experience at local museums and then be sent to the Courtauld Institute at the University of London and to galleries on the continent for further study.  Lismer, recognizing Kemp's potential as an art educator, hired her for the first phase at the Art Gallery of Toronto and then recommended that she continue her museum training at the National Gallery of Canada in Ottawa.
In January 1934, Kemp applied to H.O. McCurry, secretary of the Canadian Committee, for an eight-month apprenticeship.  Her application was approved, and in February she spent one week in Ottawa assisting Kathleen Fenwick, curator of prints and drawings at the National Gallery, in lecturing on an exhibition of nineteenth-century painting.  She then returned to Toronto, where she finished her thesis on "The Educational Work of an Art Museum," and busied herself for the next month with the activities of the art gallery—lecturing on Holbein, conducting classes for a French exhibition, assisting Lismer with his Thursday morning study classes, doing clerical work, and in general familiarizing herself with the operation of the gallery.
In the fall of 1934 Kemp began her study in London at the fledgling Courtauld Institute.  The Courtauld had been founded at the University of London in 1931.  It offered courses for the B.A. honours degree and the academic diploma in both art history and archaeology, as well as for the M.A. and Ph.D.  The Courtauld had a skeletal full-time faculty—the director, W.G. Constable, and four additional teachers.  Most of the lectures and classes, in fact, were given by outside scholars, many of whom were from the museums and galleries in London.  Kemp had some difficulty adjusting to the British form of academic life.  "I don't like the utter and absolute isolation of one group from another," she wrote to Frye, adding that "there is hardly any social intercourse among the students."   On the advice of Geoffrey Webb, her tutor, Kemp soon gave up on attending lectures, which she found exceedingly dull, and spent her time instead going to galleries, museums, and churches.  "I am beginning to get a pretty fair idea of the nature of Gothic architecture," she wrote, but her knowledge came primarily, not from tutorials, lectures, or books, but from visits to Canterbury and Southwark, Westminster Abbey, and the Temple Church.
One little episode reveals Kemp's typical attitude toward her program of study: in October 1934 she initially planned to attend a lecture by Bernard Ashmole on Egyptian archaeology, but when she discovered that Albert Schweitzer was the same night giving a lecture entitled "Religion in Modern Civilization," she abandoned Ashmole, whom she knew was going to be dull, and rushed off to hear Schweitzer.  She sent Frye an extensive summary of his lecture.
On the whole, Kemp was rather casual about her course at the Courtauld.   She spent her first two months "fluttering about," and when she did turn her attention to learning some art history, she became anxious about being able to accomplish the task in one year.  "I'm almost afraid of June coming the day after to-morrow," she fretted in a letter to Frye, "and so much to be done.  But all one's life is like that, and if they expect me to have anything more than the mere beginning of a taste for sculpture and painting in eight months, they are indulging in rather fond delusions."  She had her moments of confidence, as when she reported that her papers "on a general outline of art history . . . would shame any yankee college for scope."  When she finally got around to meeting with Constable, he told her that her work has been "excellent."  But on the whole, Kemp's year at the Courtauld lacked focus: she was doing little more, she writes to Frye, than "tucking in a fair amount of information in a quiet way, not worrying, because I can't be bothered."  Part of the problem was that she received no guidance.  Webb, her tutor, hadn't the slightest idea of what she was doing, which made her skeptical of Constable's praise, and she lamented the complete absence of any counsel: "We haven't had any supervision all term and no essays to write as Webb is too busy or too lazy to read them and always postpones his session with us."  Two weeks before her exams Kemp remarked that she is "at last getting some idea of what this course is about," but by then it is too late for her to fill her head with the kinds of information her examiners wanted.
On 20 March 1935, Kemp set out with a fellow student for Italy, spending three weeks in Rome, Tivoli, Orvieto, Assisi, Perugia, and Arezzo and three weeks in Florence.  After returning to London in May, she devoted the next month to preparing, somewhat half-heartedly, for her exams, which she wrote on 17–18 June.   A month later, after an interlude in Brussels where she represented the Art Gallery of Toronto at a conference of the British Museums Association, she learned that she has failed her exams, and she wrote broken-heartedly to Frye: "Exam results came out to-day.  I failed.  It looks pretty grim, written like that, but there it is.  And I'm not doing any howling.  I feel like a general after a lost battle, but I'm all ready for the next one. . . . I don't feel ashamed or degraded or any damned thing at all, for I haven't time to waste now.  But I have wondered what you would think.  And that has been my worst disappointment.  If this makes any difference to you I shall just fade out of the picture so far as you are concerned.  It may be better that way.  I will not have you marrying a stupid woman."  In his reply Frye proposed to Kemp that her "mental outlines don't altogether fit those of an exam, which places such a premium on glibness and assumes that brilliance is the most valuable of intellectual qualities.  First-rate people don't do things brilliantly, they do them readily; and I think that this will make you much more clear-eyed and self-assured and take a lot more of the flutter and splutter and gawkiness out of your work than the most meteoric examination success could possibly have done."  The next day he cabled her, "FORTUNES OF WAR CHEER UP AND SHUT UP LOVE."   Years later Frye remarked that Kemp "cherished [this telegram] all her life—I think of it as the best literary effort of my writing career."