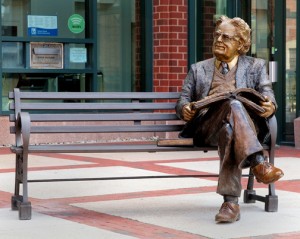 I am posting to give an update on the Bob Denham Collection at the Moncton Public Library. The wonderful donation that Bob made in July, 2012, is housed in a special room – The Heritage Room. The "primary" materials (Frye's books and the many translations thereof, as well as many books about Frye) have been on display and available to the public almost from the beginning, but now library staff have completed the somewhat more difficult task of cataloging and presenting the "secondary" materials (photocopies of contemporary reviews and essays, offprints, funeral notices, etc.). I visited the library this past Friday and was delighted to see many drawers of a built-in cabinet neatly filled with labeled folders containing these secondary materials. So I think now the Moncton Library is really ready to present itself as a destination for Frye scholars and students.
I should also mention that the display includes many artifacts, as well as original portraits and caricatures, that Bob collected over the years.
For more on the collection, go here and here.