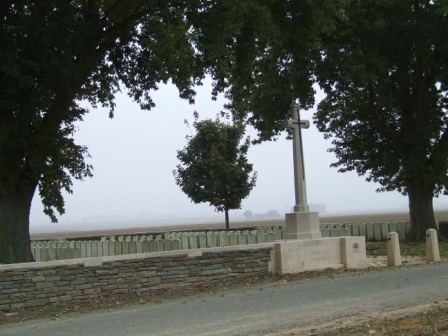 Manitoba Cemetery, Somme, France, where Frye's brother Howard (killed in action 18 August 1918) is buried.  It is worth noting that Canada's last known First World War veteran died just this past week — John Babcock, who enlisted at age 15 and died aged 109.

Responding to Peter Webb's post and a subsequent exchange in the Comments:
Peter, I don't by any means think that Frye's biography explains the general absence of attention to war stories in his writing, but his own painful experiences might have caused him to cast his glance elsewhere.
In 1944 he did review Joseph Schull's I, Jones, Soldier, a narrative poem, about which he said: "describe[es] the thoughts in the mind of an officer just before zero hour. Jones is a sensitive soldier, and is not content to go into action with a merely physical integration; he wants a spiritual one, too, and some insight into the fundamental faiths which are the laws of his own being and consequently the causes of his being there. He reviews his military career up to that point with a good deal of detachment and humour, and rejects the ready-made formulas—patriotism, justice of one's cause, product of a Depression generation, and the rest—with a sharp insight. When he gets down to his mental bedrock, he finds 'one earth, one Man, one Truth' [48]: perhaps in answer, though the poet does not say so, to the 'Ein Reich, ein Volk, ein Führer' with which he is challenged by his enemy. These are of course inarticulate ideas, and he talks very vaguely about them, but fundamental ideas usually are inarticulate, and the poem does not lose its narrative logic."
Frye reviewed as well, also in 1944, Karl Shapiro's V-Letter and Other Poems. Shapiro, Frye writes, "is not a 'war' poet: he is simply a poet who happens to be in the army, and because he is a poet patterns go on forming and metres go on clicking in his mind, regardless of what else is happening [vi]. Sometimes, of course, the war enters the poetry—most poignantly, perhaps, in the poem on the amputation [The Leg]—but on the whole Mr. Shapiro makes no attempt to 'interpret' the war to us by composing metrical editorials."
I think the only time Frye glanced at war from the Nazi point of view was in his review of Ernst Jünger's On the Marble Cliffs (reprinted in Northrop Frye on Modern Culture), but it's clear that he doesn't know quite what to make of Jünger's allegory.
I had in mind that Frye read one or more of the war novels of his Oxford classmate, the Australian M.K. (Mike) Joseph—either I'll Soldier No More or A Soldier's Tale but I've not been able to find the reference. Joseph (who later joined the Royal Field Artillery and then served in an Air Observation unit) also traveled with Frye and his wife Helen through Italy during July and August 1939, a trip recounted in one of Frye's "Two Italian Sketches":
Some of our friends have objected to our taking a holiday in a Fascist country, feeling that we ought to spend our handful of vacation money in those noble, generous, brave spirited, free republics, Great Britain and France. Well, perhaps. Certainly at Sienna, where we had an air raid practice and a blackout, we began to get restive at being in an officially hostile country with the papers all hermetically sealed against news. "La politica non è serena," as our landlady said. But surely away up on this mountain, breathing this free mountain air (one of the voices of liberty, according to Wordsworth, who ought to have known), we can forget about Mussolini for a few hours.

When we get there we find, however, that the town has been made into a "national monument" and Mussolini's plug ugly sourpuss is plastered all over it. His epigrams, too. For every conspicuous piece of white wall in Italy is covered with mottoes in black letters from his speeches and obiter dicta—the successor to the obsolete art of fresco painting. One of them says, with disarming simplicity, "Mussolini is always right." "The olive tree has gentle and soft leaves, but its wood is harsh and rough," says another more cryptically. "War is to man what maternity is to woman," says a third. "The best way to preserve peace is to prepare for war," says a fourth, and it looks just as silly in Italian as it does in English. Another one of the few not of Mussolini's authorship reads: "Duce! We await your orders." Up here they present us with "We shoot straight."

One of these, "The nation should be as strong as the army and the army as strong as the nation," reminds us how Italy is taxed to the back teeth for her army and how oddly all this gathering of pearls from swine contrasts with the miserable poverty of the town, a poverty as patient and humble as that poor old donkey. But is it so odd? Peasant feeds soldier and soldier kicks peasant—that was the Roman arrangement, so why not now, when the grandeur of Rome is revived and the national emblem once more is a whip? (Northrop Frye on Modern Culture)