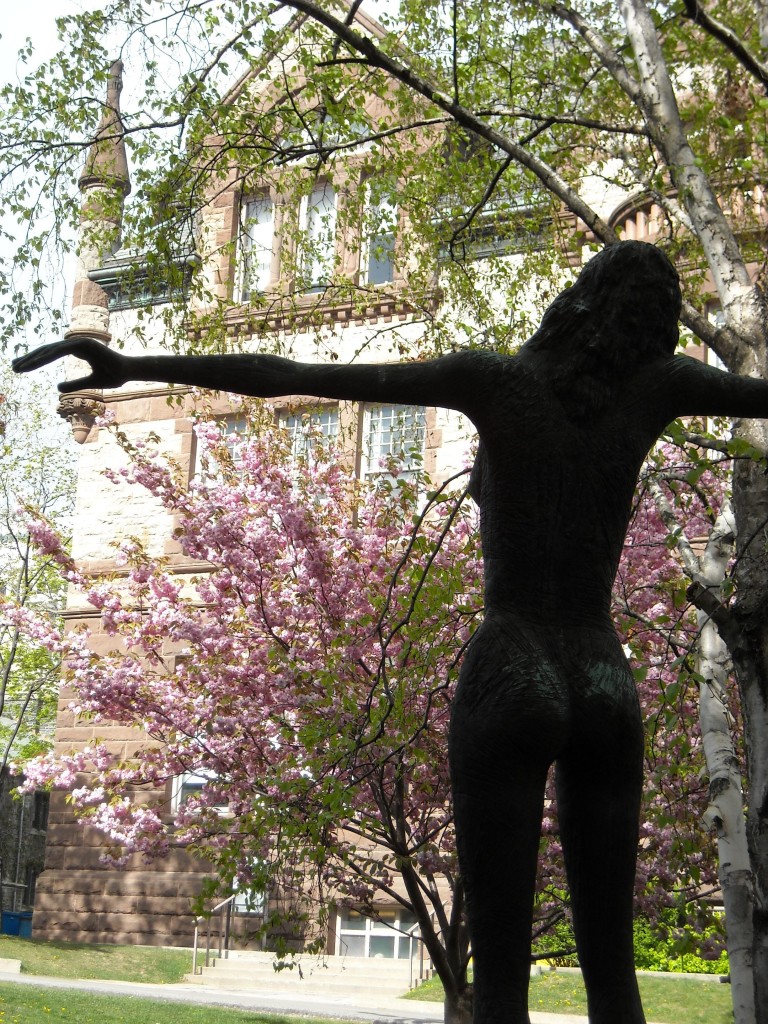 Professor Joan Wyatt is the Director of Contextual Education at Emmanuel College
In the spring of 1979 while living in Port Hope, Ontario, I read in the Globe and Mail that Almuth Lutkenhaus's sculpture Crucified Woman had been installed at Bloor Street United Church. She was in the narthex during Holy Week and in the sanctuary on Good Friday. The outrage of some was expressed when someone at Toronto South Presbytery charged Cliff Elliot, the incumbent minister at the time, with heresy. The support of others helped Presbytery to dismiss the charges.
Last year, marking 30 years since this remarkable occasion, many gathered at Emmanuel College to hear Sophie Jungreis, a Jewish artist, Nevin Reda, a Muslim academic, and Margaret Burgess and Janet Ritch, literary scholars, reflect on what the image of Crucified Woman evokes today. Toronto lawyer and scholar Nella Cotrupi read a stunning poem.
The evening concluded with many walking by candlelight to Bloor Street United Church, where the Easter Vigil service celebrated images of women cruciform and rising. Johan Aitken, professor emerita from OISE and an original member of the committee who brought the installation in 1979, related her experiences of that time. Visual images of women suffering and rising around the globe enhanced the service.
I graduated in 1986, when Lutkenhaus's gift of Crucified Woman was finally, after a protracted debate, accepted by Victoria University. Doris Dyke, a professor at Emmanuel College, along with a group of students who called ourselves the "Uppity Women," planned an event to mark her installation in the garden behind Emmanuel College. The Friday evening showcased women's stories, gifts, and accomplishments. The next day a well-attended outdoor worship service featured the hymns of the late Sylvia Dunston, liturgical dance under the direction of Alexandra Caverly Lowery, and preachers Doris Dyke and Cliff Elliot. I was the worship leader and was thrilled to complete my years at Emmanuel College, where the debate of what would it mean to have Crucified Woman at a theological School had shaped my understanding of the challenges of feminist thought. The service was a satisfying occasion, indicating that the academy and the Church recognized both the rights and the suffering of women.
May 14–15, 2010, women and men once again will gather to reflect on what the symbol of a cruciform Woman evokes in our culture today. Ojibway elder Marjory Noganosh will lead the opening ceremony and present, along with social activist Pat Capponi, and photojournalist Rita Leistner. Come listen, reflect, and join this ongoing conversation, a conversation that also invites submissions to be considered for publication.
Biographies of the speakers and workshop presenters, as well as of the dancers and musicians who will be performing at the event, after the jump.