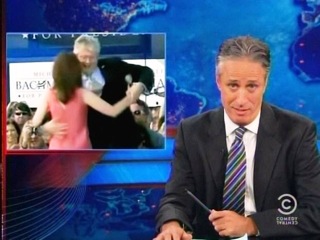 Jon Stewart takes on homophobic presidential candidate Michelle ("Gays are a part of Satan") Bachmann's equally homophobic husband, Marcus Bachmann, who runs a "clinic" to help "pray the gay away" but leaves the impression that he protests a little too much. It is a pattern that is familiar enough by now: closeted men on the Christian right who repress their sexuality, which then manifests as hostility toward openly gay people — including efforts to "cure" them through Bible-based "reparation therapy."
In a nice meta-comical turn, Stewart recruits Jerry Seinfeld to counsel him on how to repress his urges to make jokes about a man who may be repressing urges of his own.
You can watch the video here.
Gay activist and author Dan Savage provides some perspective:
Straight people haven't just gotten used to gay people—to openly gay people—they've come to the realization that they prefer openly gay people to lying closet cases. They would rather have a beer with an honest Cam than a glass of champagne with a lying Liberace. And that's why Marcus Bachmann is being ridiculed: it's not because he's perceived to be gay—it's not because he pings on everyone's gaydar save Michele's—it's because he's perceived to be dishonest. He appears to be a lying closet case, a lying closet case who's made convincing other gay people to join him in the closet his life's work. And straight people don't like being lied to.
The reason for the links above relating to the implications of homophobia, by the way, is that the response on the right has been to dismiss all of this as stereotyping. However, home truths about homophobia turn out to have both a public record and a scientific basis.