APPENDIX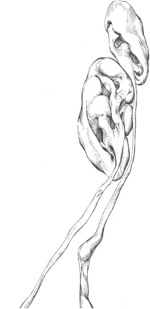 One of Fraser's medical drawings. From Alice Carleton, "Crossed Ectopia of the Kidney and Its Possible Cause," Journal of Anatomy 71, pt. 2 (January 1937): 292–8.

Fraser's drawing of the Dorchester Puddling-Hole, reproduced from D.B. Harden's "Two Romano-British Potters'-Fields near Oxford," Oxoniensia 1 (1937): 90.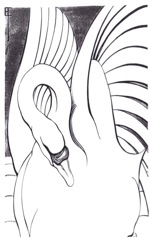 One of Fraser's illustrations for Plato's Academy.
Note initials "EF" in upper left-hand corner.
Notes
---
[1] E.T. Long is identified in Frye's letters to Helen as a restorer of wall-paintings. In 1932 E. T. Long had restored paintings in the Northmoor Church associated with the Thomas de la More tombs, and he uncovered additional paintings in the recesses of the church. In his letter of 20 October 1936 Frye refers to Long as "a vaguely clerical person who lives out near Keble College and is apparently an expert on church architecture in general and stained glass in particular." And in his letter to Helen of 30 November 1936, Frye says that Long is "a rather inconvenient friend of Elizabeth's." See E.T. Long, "Mural Paintings in Eynsham Church," Oxoniensia 2 (1934): 204, and his survey, "Medieval Wall Paintings in Oxfordshire Churches," Oxoniensia 37 (1972): 86–108; see also Long's
"Medieval Domestic Architecture in Berkshire; Parts I and II," Berkshire Archaeological Journal 44 (1940): 39–48, 101–13.
[2] John Johnson, the "Printer to the University" (Oxford University Press). In his letter to Helen of 9 February 1937 Frye writes that Elizabeth is "in love with one of the biggest men in Oxford—the printer at the O.U.P." Earlier he had written that the printer "has been breaking her heart" (letter of 10 November 1936). Johnson was sixty years old. For Johnson's extraordinary collection of printed ephemera, see http://www.bodley.ox.ac.uk/johnson/exhibition/coll.htm. Fraser helped to clean, mount, sort, and index Johnson's collections for deposit in the Bodleian Library.
[3] Elizabeth Macdonald, a friend of Long's.
[4] A wide street leading north from the centre of Oxford.
[5] This is apparently Frye's friend Tom Allen, a student from Queen's University in Kingston, Ontario, studying at Merton College. Allen had a piano, and Frye and two other Merton students frequently congregated in Allen's room to play Haydn, Brahms, Ravel, Mendelssohn, and Schumann.
[6] Edith Manning Burnett, who, with her husband Stephen, Helen Frye had come to know through Norah McCullough at the Art Gallery of Toronto. Helen had stayed at their home when she was in London studying art, and Frye stayed with the Burnetts on several occasions when he was in England. He had first been introduced to Elizabeth Fraser by Norah McCullough at the Art Gallery of Toronto.
[7] Frye had had a similar outing with Fraser the month before. They had headed northwest along the towing-path of the Oxford Canal to Wolvercot, and thence west along the Thames towing-path to Wytham, the northernmost village in Berkshire; from there they headed west again to Eynsham, which took them back into Oxfordshire. The distance between Oxford and Eynsham is about ten miles. "Saturday we went for what started out to be a walk around the country, but which ended up in a pub-crawl. We had morning coffee in Kemp Hall (nice name that place has) at eleven, and started up a tow-path north-west of here. It was a marvellous day, bright sun and dark rain-clouds on the opposite horizon, everything full of the subtlest lighting and colour-effects. This landscape almost paints itself, but then it does it so quickly—the sun goes behind a cloud for a minute and then you have an absolutely different picture. I t would break a painter's heart, I should think—that is, a real painter: but I should think the temptation to sit down and dash off a bad water-color on the spot would be almost irresistible to a bad painter. I like this particular stage of the fall (autumn, these silly people call it), when the trees are almost emerging in black outlines, but still keep a few rows of russet tufts on them. We had lunch in a little village called Wytham (these villages and their inhabitants are exactly what one sees pictures of and reads about at home, which gives one rather a shock) and then discovered we were in a blind alley, as all the land around there is privately owned and they keep people out when they want to shoot pheasants. We started up a road and asked a long individual with two pointers snuffling along behind him how to get around his property—he was obviously connected with it—to somewhere else. He wore a green hat. He told us if we went through a farm "we wouldn't do any harm"—rather a subtle remark, meaning essentially that we wouldn't get shot in the pants by a pheasant-hunter, and the naivete of the Englishman's worship of private property it embodied kept me laughing for the rest of the day. So we started toward the Thames, but instead of getting to the towpath ploughed along through a swamp, me getting my beautiful gray flannels soaked with muck and my shoes—I don't know what the Boots [Frye's Merton College "scout"] said the next morning, and probably couldn't set it down if I did know. Elizabeth almost wept and said she ruined every day she planned, but I was really having a very good time. We had tea in an even more post-cardish village called Eynsham, and started up a highway, of all places, but it was getting dark and Elizabeth wanted to flag a bus and go home. We stopped one—a very swanky one for this country—and the conductor got out, glanced at our shoes, and said that this bus was much more expensive than another which would be along in ten minutes—one-and-six. We got in" (letter to Helen of 17 November 1936).
[8] The reference, apparently, is to a poem Fraser had enclosed.
[9] Johnson was a friend of Yvonne Williams, a Canadian stained-glass artist. Helen had written Frye that Johnson and Williams would be in London, staying at the Canada House, in October 1936.
[10] Violette Lafleur, the museum curator at University College, London. In 1939 she helped examine and restore the body of Jeremy Benthan, who had requested in his will more than one hundred years before that his body not be buried but embalmed and placed in a wooden cabinet. See Lafleur's Interim Report on Jeremy Bentham, February 27th, 1939. Typescript, with covering letter from Professor Stephen R. K. Glanville, dated 22 June 1939, in Records Department, University College, London.
[11] The reference is to the Canadian socialist J.S. Woodsworth (1874–1942), founding leader of the Cooperative Commonwealth Federation.
[12] The reference is to Edith and Stephen Burnett. See n. 6, above.
[13] Frye had gone to a party at Rose Lamb's. See Helen's letter to Frye of 20 January 1937.
[14] In his letter to Helen of 20 October 1936, Frye writes: "Esther [Johnson] and Yvonne [Williams] were in Oxford this week. They sent me a note, and we had tea at a place called Kemp Hall. Lovely name."
[15] Fraser's training was in medical and archeological drawings. The reference here appears to be some medical drawings she was doing for the man named Zuckerman, apparently Solly Zuckerman, anatomist for the Zoological Society of London.
[16] Mrs. Batchelor was proprietor of the boarding house at 55A High Street, London, where Fraser was living.
[17] Eliot's "Murder in the Cathedral" played at the West End Theatre in London from November 1935 to March 1937.
[18] See n. 10, above.
[19] Professor of Egyptian Archaeology and Philology at University College London (1935–47) and, later, Professor of Egyptology, Cambridge University.
[20] This is an apparent reference to the tracings that Fraser has done of the wall-paintings from the Northmoor Church.
[21] Winifred Boyd, wife of Sir Donald James Boyd, entertained Commonwealth students studying in England.
[22] Edmund Blunder, Frye's tutor at Merton College.
[23] That is, tracings of the wall-paintings in the church at Northmoor. In his letter to Helen of 11 December 1936 Frye writes that he and Elizabeth "went out to a little 14th century church in a place called Northmoor. I was to bring this pad along, but left it in Elizabeth's digs in the morning. The point is that they had dug several pounds of plaster out of the north transept, revealing a tangled mass of red lines and flakes of gilt Elizabeth said were paintings." Here is a photo of the indistinct remains of the painting in the north transept: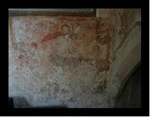 [24] Kemp Hall was a two-story stone and timber-framed building just to the northwest of Merton College, off High St., between St. Aldate's and Alfred Streets.
[25] The book in question, one that Fraser is illustrating, is, Plato's Academy: The Birth of the Idea of Its Rediscovery by Pan Aristophron, published in London by Oxford University Press in 1938. The edition, handsomely printed on handmade paper, contains thirteen full-page, two-colour illustrations by Elizabeth Fraser, plus an illustration for the endpapers. Only the first illustration is autographed with the stylized initials "E.F."
[26] Daniel John Cunningham, Cunningham's Manual of Practical Anatomy, rev. and ed., Arthur Robinson (New York: William Wood). The 9th ed. of this standard text had been published in 1935.
[27] Women who have never given birth to a child.
[28] The swan motif runs throughout the illustrations Fraser is drawing for Plato's Academy.
[29] Letter from Charles E. Saunders dated 28 February 1937 was enclosed.
[30] E.W. Tristram of the Courtauld Institute in London was a scholar and restorer of wall-paintings. He would later publish English Medieval Wall Painting (London: Oxford University Press, 1944).
[31] Fraser is apparently quoting from one of Long's articles. Sir Thomas de la More was from Northmoor; he was later a patron of Geoffrey le Baker. The wall-paintings at Northmoor are presumed to have been commissioned by de la More.
[32] Fraser is quoting—toward what end is uncertain—from J.L. Andre, "Notes on Symbolic Animals in English Art and Literature," Archaeological Journal 48 (1891): 236.
[33] In mid-March Frye had headed down to London for a brief visit with Edith and Stephen Burnett before setting off on 18 March with his classmate Mike Joseph for a month's tour of Italy.
[34] Fraser had proposed to sell the New York Metropolitan Museum tracings of the wall paintings in the Northmoor Church she had done.
[35] Addressed to Frye at Merton College but forwarded to him in Venice, Italy, c/o American Express.
[36] Dated by the postmark from Oxford.
[37] See n. 15, above.
[38] It seems likely that this is Charles Seligman, professor emeritus at the University of London.
[39] See n. 33, above.
[40] Mike Joseph. See n. 32, above.
[41] Doubtless The Meaning of Modern Sculpture (1932), which contains a vehement attack on the idealizing forms of Greek sculpture.
[42] See n. 20, above.
[43] Bursar and fellow at St. Hugh's College, Oxford; friend of Helen Frye's when she was studying art in London.
[44] A weekly magazine modeled on The New Yorker, which published fiction, poetry, cartoons, and political commentary, as well as film, book. and theater reviews.
[45] In July Frye was appointed a "special lecturer" at Victoria College for the following academic year.
[46] Frye and Helen Kemp had been married six days before the date of Fraser's letter.
[47] That is, to send the manuscript to Jonathan Cape if it is rejected by Cambridge University Press.
[48] Fraser is referring to Sir Geoffrey Keynes, the great Blake bibliographer, collector, and scholar.
[49] The work by Blake described here is uncertain, but Fraser might have been referring to the frontispiece of The Gates of Paradise.
[50] Blunden had shown Fraser Blake's etching of "The Peasant's Nest and Cowper's Tame Hares," which Blake had executed for W. Hayley's Life and Posthumous Writings of William Cowper.