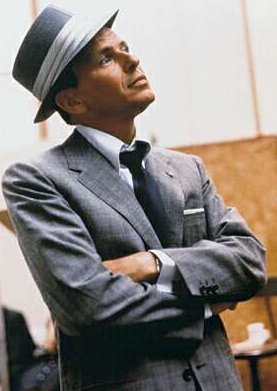 Thanks for this post on Sinatra, Mike. Frye's erudite knowledge of classical music is well known, but the one essay he wrote on Frank Sinatra is a little known fact. It just goes to show Frye's incredible range, like ol' blue eyes himself. The essay remained unpublished; Sinatra threatened to sue, or worse–and you know what that means.
Below are some excerpts from the essay, "The Fearful Symmetry of Frank Sinatra," which opens with a statement by the singer about his legendary sense of wardrobe and style, "I am a symmetrical man, almost to a fault," a thinly veiled allusion to both Blake's "Songs of Innocence and Experience" and Carlyle's Sartor Resartus
The excerpts start in fact with a brilliant gloss on Sinatra's version of Cole Porter's "I've Got you Under my Skin" (great choice for the post, Mike!), worth quoting as it puts to to rest all the lame accusations that Frye was somehow weak on texture:
"In 'I've Got you Under My Skin,' [Nelson] Riddle starts with a comfortable, loping rhythm that he called 'the heartbeat rhythm'–'Sinatra's tempo is the tempo of the heartbeat,' he said–and then created a marvelous instrumental tension around Sinatra's voice. Riddle always found little licks–certain spicy, nearly out-of-key notes–that would tease the key, and added the glue of 'sustaining strings' almost subliminally to the rhythm and woodwind sections. At the instrumental breaks in the songs, Riddle gave solo voices to oboes, muted trumpets, piccolos, bassoons; in 'I've Got you Under My Skin,' it was Milt Bernhart's trombone, which is whipped up the excitement and Sinatra joined the song again and brought it back to the heartbeat rhythm where it had begun. Sinatra had wanted an extended crescendo; Riddle provided one that was longer than had ever been heard in an organized arrangement."
And for you cultural studies types:
"What Sinatra evokes is not strictly urban. It is a very particular American loneliness–that of the soul adrift in its pursuit of the destiny of 'me,' and thrown back onto the solitude of its own restless heart."
"The cocked hat, the open collar, the backward glance with the raincoat slung over the shoulder, the body leaning back with arms wide open in song–these images of perfect individualism dominated the albums of the fifties."
And finally, in the context of ritual and dream, opsis and melos:
"In time, Sinatra seized more than power; he infiltrated the Western world's dream life."
Frye never stops amazing his readers. Who'd have thunk it? Not even Bob Denham. As one critic of Frye has justly remarked, "in whatever direction you happen to be going, you always meet Frye on the way back."
And Sinatra. Just don't get in his way.