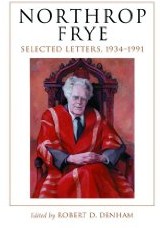 The Saunterer — aka H. Charles Romesburg, Professor of Environment and Society, Utah State University — cites Frye from the recently released Northrop Frye: Selected Letters on urban "space and shape pollution" in a March 9th, 1970 letter to A. E. Parr:
I have been living in Toronto for forty years, have seen it change from a quite habitable town to the usual wilderness of freeways and highrise apartment buildings, and consequently I have experienced something of what you call the realities of sentiment and nostalgia.  I am quite convinced that space and shape pollution is quite as important a social problem as noice and dirt.  (Northrop Frye: Selected letters, 1934 – 1991. McFarland Publishers, 2009)
You can read the full post here.  Take some time to browse around the blog.  It's worth the effort.