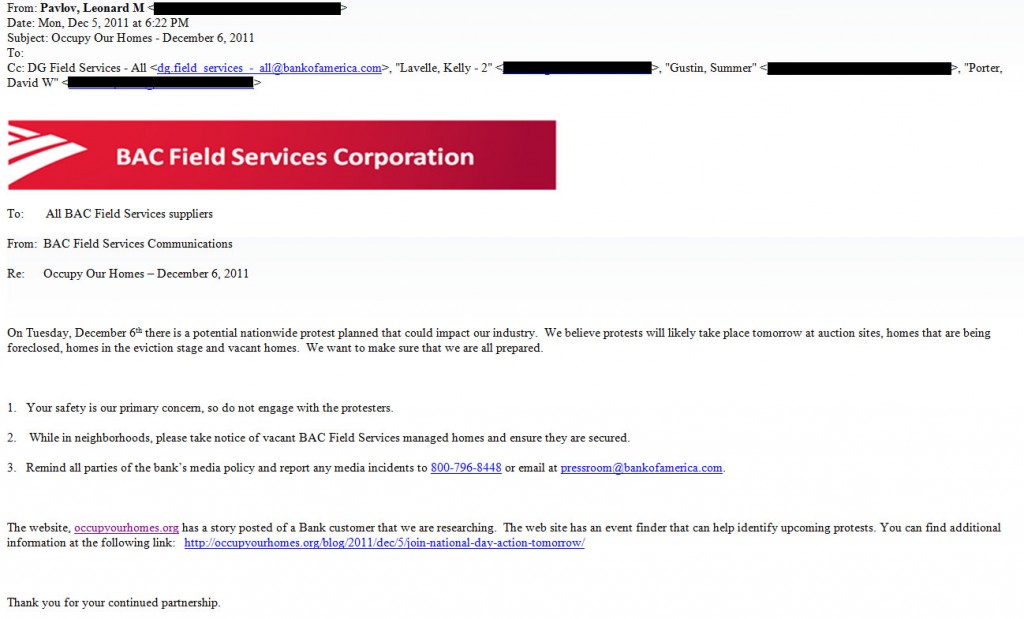 Here's an email sent out yesterday by Bank of America regarding today's "Occupy Our Homes" day of protest. Full text below.
For context, Matt Taibbi on foreclosure fraud here.
On Tuesday December 6th there is a potential nationwide protest planned that could impact our industry. We believe protests will likely take place tomorrow at auction sites, homes that are being foreclosed, homes in the eviction stage and vacant homes. We need to be prepared.

Your safety is our primary concern, so do not engage with the protesters.
 While in neighborhoods, please take notice of vacant BAC Field Services managed homes and ensure they are secured.
Remind all parties of the bank's media policy and report any incidents to 800*796*8448 or email at pressroom@bankofamerica.com

The website occupyourhomes.org has a story posted of a Bank customer we are researching. The web site has an event finder that can help identify upcoming protests. You can find additional information at the following link: http://occupyourhomes.org/blog2011/dec/5/join-national-day-action-tomorrow/

Thank you for your continued partnership.
Perhaps this latest action by OWS will satisfy those who insist that the movement has no aims, policy or program.
We'll be providing a further update on Occupy activity shortly.