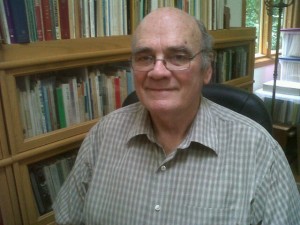 Bob Denham in his library
What follows is the text portion of "Collecting Frye's Thoughts,"  a story by Mike Landry, from the New Brunswick Telegraph-Journal, part of a special feature on Northrop Frye (April 21, 2012).  Mike Landry is the Telegraph-Journal's arts and culture editor. He can be reached at landry.michael@telegraphjournal.com.
Now retired in Emory, Va., former professor Robert D. Denham has dedicated decades of his career to compiling and then annotating Frye's bibliography. In the process, he has assembled an extensive and unparalleled near nine-metre library of Frye-related material, which he hopes to donate to the Moncton library.
In the southwestern corner of Virginia, a 30-minute drive north of Tennessee and North Carolina, about 850 metres above sea level in the Blue Ridge Mountains, is Northrop Frye country.
To say it's an unlikely home for the world-renowned Canadian literary theorist would be an understatement. It's inconceivable that the tiny town of Emory, Va., 1,000 kilometres from Toronto, would account for arguably the most impressive personal library of Northrop Frye's work.
Frye visited the town only once, for two days, in 1979, to give The Reynolds Lectures at Emory & Henry College. And while snow is still melting from Frye's old stomping grounds in Moncton in early April, those in Emory are busy mowing their lawns.
Yet, in the study of Robert D. Denham's home in Emory, almost nine metres of shelf space is allocated to Frye. It takes almost 40 pages to list all the books, monographs, journals and offprints in Denham's collection. It's so extensive, the two editions of Anatomy of Criticism not in the collection are a translation from Tunisia and an Italian edition from a print run that was destroyed by the publisher.
Add then, not measured on his shelves, are the eight videotapes and 56 audiotapes Denham has collected. Nor included is what Denham refers to as 'Frygiana': Frye's writing desk and chair; a silver bowl, presented to Frye on the occasion of his giving the Jacobs Lecture at Columbia University; a bronze bust of Frye by Hanna Boos; and more than 50 other items of miscellany.
"It's anal neurotic, I guess, this collecting stuff," Denham says. His other "collecting fetish" has led to 2,700 modern poetry books in his library. "I don't know how to explain it, it's kind of like stamp collecting – I've got to have it complete, but I keep finding more stuff."
A former John P. Fishwick Professor of English Emeritus at Roanoke College, just east of Emory in Salem, Va., Denham published his enumerative bibliography of Northrop Frye in 1974. He then collaborated with the University of Toronto Press to publish an annotated bibliography in 1987. Denham has been involved in editing nine of the 30 Collected Works of Northrop Frye.
He's put his collection to good use, and Denham wants to make it available to the wider public. He contacted the Frye Festival last fall about donating his Frye material to the Moncton Public Library, and in May someone from Moncton is heading down to assess the collection. In addition to his primary sources, Denham is also sending his hundreds and hundreds of secondary sources relating to Frye. Denham hopes to turn the Moncton library into a centre for Frye studies – one of the few places someone so inclined could find not only a signed 1947 copy of Fearful Symmetry, but an edition in one of 19 languages and its reviews from across the decades and the world over.
"He's not on the lips of every post-structuralist thinker, but someone is thinking about him out there," Denham says regarding Frye's enduring appeal. A study he did a few years ago documented the rise in secondary sources about Frye, and his prevalence in hundreds of school curricula.
Denham purchased his first Frye book, Anatomy of Criticism, on a whim in the early '60s while browsing the shelves of the University of Chicago bookstore. He had only recently come across literary criticism while pursuing an MA in religion and art.
He wouldn't read the book until he had left to serve in the army in 1964. By the time he returned to the University of Chicago to complete his PhD in 1970, he decided to write his dissertation on Frye's critical method. He was drawn to specializing in history and theory of criticism as he felt it would be a good base for an undergraduate professor. Traditionally, then, dissertations were written on dead thinkers, but Denham's supervisor was interested in critical theory and had invited Frye to lecture in '68.
"Once I discovered Frye, there wasn't much going back. He was a large presence, and you always discovered something new."
Denham began writing to Frye in '72, seeking his help for his bibliography. In the mid-80s, working on the annotated bibliography, Frye let him have access to his office on the first floor of Massey College at the University of Toronto. It was during this visit when Denham arrived for dinner at the Frye's with a box full of books to be signed.
Denham has no idea how much time he's invested in Frye. He just replies with a baffled chuckle when asked. There was a time in the '70s when he quit writing to build a house, be a father and run a letter press. But he would more than make up for any time off after Frye's death.
He was "blown away" when he first discovered Frye's unpublished writing in the summer of '92. Transcribing Frye's handwriting was like learning a new alphabet –Frye never failed to dot an I, and the O always came down below the rule. It would take five years to go through it all.
"I remember the first night; I hauled a photocopy of a notebook back to my room.It was an essay on Arnold, just a little essay for his 19th-century thought class. I got through maybe 50 per cent of it."
It was slog work, but the daily discovery of something new was impossible to walk away from.
"It was important. It was important stuff," he says. "There are so many unexpected things in the notebooks, from Frye's scatological language to his interest in esoteric text. Nobody knew in the world that Frye was reading this stuff –Kabbalah, Buddhism, Taoism. There were just whole areas of his knowledge and reading of which nobody had any idea."
Of particular interest to Denham was Frye's correspondence with his first wife, Helen Kemp.
"It was exciting to see these two young lovers who desperately missed each other when separated, so the more they were separated the better it was for me."
Denham was never hesitant about prying into Frye's life, alive or dead. Frye was always distant; knowing the line between his personal life and his academic insight was blurry to the point of nonexistence.
"There were certain things we had to excise, just in the interest of protecting people still alive, but there was very little of that," he says."He loves to quote Montaigne– 'I have no more made my book than my book has made me.'"
For all his thorough work with Frye, Denham is still missing certain pieces of the puzzle, such as Frye's papers from when he was a student at Oxford. Then there are the more than 2,000 of Frye's annotated books that need to be transcribed. Not to mention the little mysteries.
"He refers to the book 'on its side.' (Michael) Dolzani and I puzzled over that for a year," he says."But most of those problems that appear initially will be cleared up by some other reference."
Eight years after retiring, Denham says he's been happy to have been involved with assembling these pieces rather than being the one to benefit from the work. He says there's no mind richer than Frye's to dedicate oneself. "
He provides one a vision of what culture can be,"he says."He realizes we might not get there, nevertheless it has to be held out as a model of what life could be like.
That's Frye for me – we can grasp a whole lot, but we can't reach a whole lot. Yet, we should never give up reaching beyond what we can grasp."
A few years ago, Denham thought he had finally said all he had to on Frye, but then he began writing what he calls his 'Frye and X' essays. The series uses his extensive bibliographic knowledge of Frye to write about overlooked characters in the Frye lexicon. He'll deliver his essay on Frye and Longinus at conferences in Toronto and Budapest this year.
Just because he's saying goodbye to his library doesn't mean he's saying farewell to Frye. He's still keeping his annotated series of the Collected Works.
"I don't think I will quit writing about Frye, so I need it at my elbow."