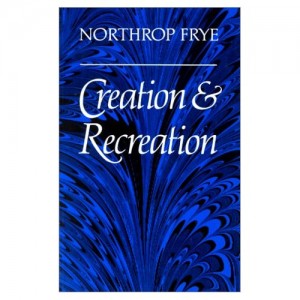 Bob Denham has sent me the following news:
Shunichi Takayanagi's translation into Japanese of Frye's Creation and Recreation has just appeared (Tokyo: Shinkyo Shuppansha, 2012). Takayanagi previously translated Myth and Metaphor (2004).

The same publisher has just released a translation of The Double Vision.

The total number of Frye's books now translated into Japanese is seventeen.
Also courtesy of Bob, three other Frye alerts: here Bob engages in discussion with a blogger and writer who has some preliminary thoughts after reading Anatomy of Criticism.
Here in The Toronto Star the poet Don Coles pays homage to our oracle, "the greatest oracle of our age," as Martin Knelman calls him. Coles' piece is a response to Knelman's column in the same paper, which you can find here.
Barbara Kay in The National Post on the power of myths in shaping history, here.