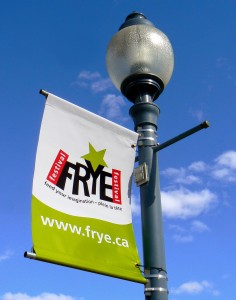 It's Frye-Day and CBC Radio's local morning show is completely devoted to the Frye Fest, with information and interviews with authors.  I'm listening now to Linden MacIntyre being interviewed.  He's talking about his own early life and relation with the Catholic Church, and about his life as a writer.  He's picking up on the theme of yesterday's roundtable, "Stories, and What They Do," talking about what fiction can do that no other form of writing can do.  He's talking about his own religious upbringing, and his understanding of the Bible, as stories and metaphors, perhaps without Frye's great faith in the power of myth and metaphor.
Next up on CBC will be Nino Ricci.  Nino, Linden, and Annabel Lyon will be featured this evening at an all-English event, with Noah Richler as host.  We call it "An Evening of Canadian Lit."  Most events are bilingual, French authors and English authors alternating.  Tonight's event is all English, making a special appeal to English speakers who find all they can do with French authors usually is look and not listen.  Block it out.  Tonight we make it easy for them.
At noon today I'm looking forward to the roundtable "Writing Lives and Afterlives" with Noah Richler, Daniel Poliquin, Nino Richler, and Maryse Rouy.  The discussion will be about the relation between historical figures (famous or not) and the narratives (fictional or biographical) that writers create.  Jean Fugère will be moderator.  Fugère, from Quebec, has been coming to the Frye Fest for many years now, serving as moderator, MC, and interviewer.  He's always well prepared, well read, and has a great ability to ask the right question.  I missed his interview yesterday with Noah Richler, occupied as I was with the very pleasant task of keeping Annabel Lyon company at dinner, along with my wife and a friend.
Nino is talking now, mostly about his Trudeau biography.  The narrative arc is from conservative, reactionary early Trudeau to "independent" and "outspoken" later Trudeau.  Public persona was arrogant; privately, friends thought him too shy even to get into politics.  It's a brief interview with Nino, now over.  No discussion of "Origin of Species" or anything except the Trudeau bio.  Somewhat disappointing in its narrow scope, but good publicity for today's roundtable and tonight's event.