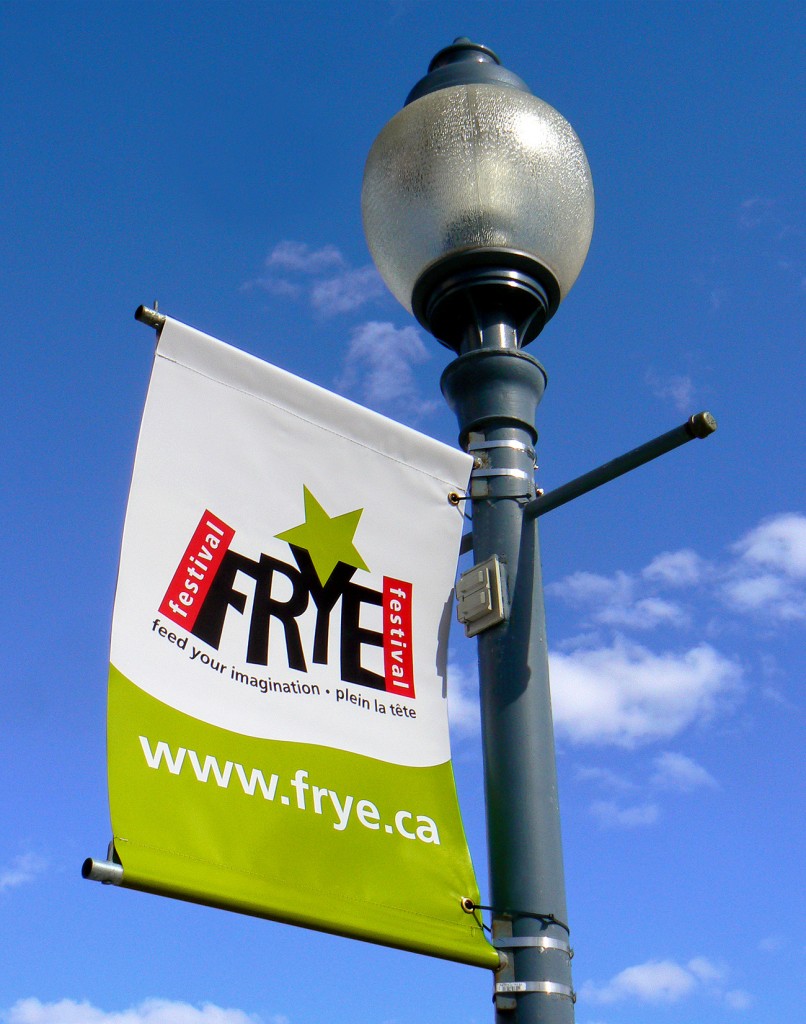 The festival is officially launched, and the cold, rainy weather seems to be letting up, promising some sun and warmth.  We had an impressive roster of sponsors and politicians at the launch, including the Premier of the province, a Liberal, and Conservative Senator Rose-May Poirier, speaking for the federal government.  All praised our efforts, our success, and promised continued support.  "You are certainly doing all the right things," Poirier said, in French.  Sweet words, in whatever language.  Several speakers made a point of quoting Frye's words on the importance of imagination, and on the importance of basic literacy.
The big news, in the eyes of the media, is that we did actually lose 2 authors to the volcano, contrary to what I said yesterday.  "Volcanic ash cloud casts shadow on Metro" is the headline on the front page of the local newspaper.  We're always glad for any publicity we can get.  The two authors are somewhat peripheral to the festival, so we're not really hurting.  The big worry was Craig Stephenson, but he's here.  I look forward to meeting Craig this afternoon and driving him to a local high school, where he will meet a psychology class.
At 6pm this evening, Guy Gavriel Kay, acclaimed writer of historical fantasy, will talk about his new novel, "Under Heaven."  He's on a countrywide book tour, with a two-day stop in Moncton.  Tomorrow, Wednesday, he's the invited speaker at the YMCA Literacy Luncheon, which celebrates the many high-school age volunteers who give their time to help others come, in Glenna Sloan's words, to "a love of reading."
At 7pm this evening we have gathered 6 storytellers, English and French, who will entertain us and give us examples of the magic of telling a story, of the sort that comes out of the oral tradition.  Ronald Labelle, good friend and Professor at University of Moncton, specialist in folklore and the oral tradition, has organized the evening for us, and will host the event.  The best-known of the storytellers are André Lemelin from Quebec, and Kay Stone from Winnipeg.  Gilbert Sewell, from Papineau First Nation in New Brunswick, will also be here.  Gilbert was at our first festival in 2000.
Local French-language publisher, Éditions Perce-Neige, will host an event at 10pm, featuring 4 of their newly published authors.  Though my wife, Elaine, is francophone, from Quebec originally, my own French is bit shaky, and I may skip this all-French event.  It's going to be a busy-enough day, and we'll be tired.
The Festival has set up Headquarters in a room at the Delta Beausejour Hotel, where all the authors stay.  People are there almost around the clock, working to make sure everything goes smoothly.  Our two paid staff are Rachelle Dugas, executive director, and Roxanne Richard, assistant.  Everyone else is a volunteer, including Dawn Arnold, President of the Frye Board, who works tirelessly at every level, fundraising, mixing with politicians, and details of programming.  We have hundreds of volunteers, helping with such things as driving authors to schools, selling tickets at the door, introducing authors, etc.  It is, as Nella Cotrupi noted with such warm words when she was here in 2002, an extraordinary community effort.