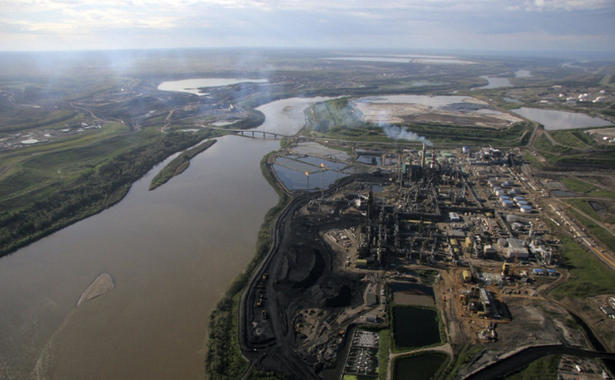 The Athabasca river winds through tar sands production facilities at Fort McMurray. Fresh water in one end, toxic sludge out the other. (Photo: AP)
The Inspector General of the U.S. State Department has been asked to investigate improprieties in the promotion of the Keystone XL pipeline. The sponsor of the project, TransCanada of Calgary, faces the prospect that the State Department investigation will expose the details of its questionable conduct in assessing the environmental impact of the pipeline. The investigation will likely only encourage the steadily growing protests against Keystone XL. At the same time, the final decision about the project may be delayed by the Obama administration as the investigation continues. This will probably not sit well with the crony capitalists of the Alberta oil industry or their Conservative agents in Parliament.
The other day the Conservative house organ, the tabloid Toronto Sun — always working to whip up unending resentment and paranoia about events that have minimal importance as news — whined on its front page that delay of construction of the pipeline will cost TransCanada $1 million a day. This may turn out to be the least of TransCanada's worries as a fuller understanding of its handling of the Keystone XL proposal emerges.
In tangentially related news, payback is a bitch.
From Think Progress:
INSPECTOR GENERAL LAUNCHES INVESTIGATION INTO KEYSTONE XL APPROVAL PROCESS | In response to a congressional request, the State Department's Office of the Inspector General has launched a review of the Keystone XL pipeline approval process. The State Department is tasked with conducting the environmental review of TransCanada's proposed tar sands pipeline from Canada to Texas for a Presidential Permit decision. Beginning with the Bush administration, the process has been largely outsourced to a contractor chosen and paid for by TransCanada, with only a single staffer overseeing the work. Meanwhile, lobbyists with close ties to Secretary of State Hillary Clinton have aggressively pushed for approval on behalf of the foreign oil company. The request for an investigation was made by Sen. Bernie Sanders (I-VT), Sen. Ron Wyden (D-OR), Sen. Sheldon Whitehouse (D-RI), and eleven Democratic members of the House of Representatives.