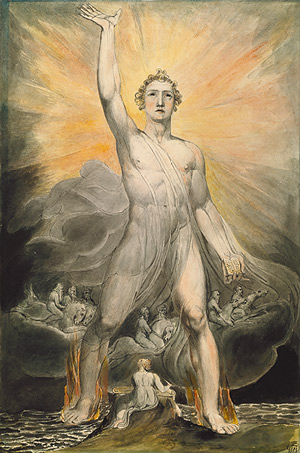 Here is Clayton Chrusch's excellent summary of Chapter Four of Fearful Symmetry:
A Poet, a Painter, a Musician, an Architect: the Man Or Woman who is not one of these is not a Christian.
1. Blake's view of art: "proud and demonic"
In this chapter, Frye explains Blake's views about art in general and specifically about visual art.
Blake was a practicing artist which distinguishes him from other thinkers who otherwise had similar views. His views about art are highly developed, central to his thought, and distinguish him as a thinker. For Blake, art stabilizes our experience by removing it from the world of time and space where everything is necessarily blurred. It does not seek to escape from reality but to perceive it clearly and recreate it as a permanent and living form.
Art is superior to abstract thought because it addresses the whole person, not just the conceptual intellect, and demands a total response, including a physical response. A generalization never has the vividness of an example or an illustration. Christ, in this sense, was an artist. Frye writes,
Christ brought no new doctrines: he brought new stories. He did not save souls; he saved bodies, healing the blind and deaf that they might hear his parables and see his imagery. He stands outside the history of general thought; he stands in the center of individual wisdom.
By wisdom, Frye means, "the application of the imaginative vision taught us by art."
Some people have knowledge without wisdom, which means they possess an unorganized collection of information. Wisdom takes knowledge, abstract or otherwise, organizes it according to a grand pattern, and fits it into a universal imaginative vision. We cannot be satisfied by acquiring knowledge until we have a universal vision that it all fits in.
Here Frye turns to the relationship between art and religion. He recognizes that art cannot give the objective support to religion that dogma can be, but he prefers it that way. Frye claims this kind of objective support leads to a perpetual spiritual infancy and the worship of nature. It is okay to rely on dogma in our most difficult moments, but otherwise dogma must itself be treated as an art form, infinitely suggestive but also flawed and provisional. Frye writes,
The state of Eden [the free and exuberant creativity of an artist] to [dogmatic religions] is proud and demonic, a state in which one forgets God. But one forgets God in that state only in the sense in which one forgets one's health by being healthy: one is merely released from the tyranny of "memory."
And so Blake is clear that one cannot be a true Christian without being an artist.
2. Art builds up a permanent structure above time.
Culture or civilization is the totality of art, and art is every worthwhile task done well. Though culture supports society, society, being fallen, constantly resists and attacks culture. Art is ornament, it requires and manifests a freedom above the restrictions of necessity, but the fallen world attempts to eliminate all ornament and to bind people in the chains of necessity. People can only achieve happiness by being artists, that is, by living a free and creative life. Compulsion cannot result in order because it develops out of anarchy which itself develops out of Selfhood or self-absorption.
So divinity is the origin of inspiration; art arises from inspiration; culture and civilization are built up by art; and culture, being the totality of eternal imaginative acts, builds up a permanent structure above time called Golgonooza in Blake's mythology.