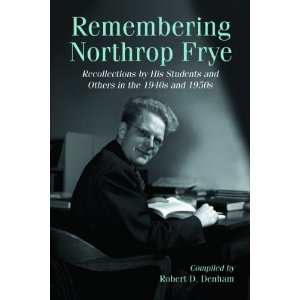 Robert Fulford's review of Bob Denham's Remembering Northrop Frye: Recollections By His Students and Others in the 1940s and 1950s, here.
An excerpt:
By 1946, when he was 34 years old, he stood at the centre of a circle — "We were a coterie," as one member put it. Doug Fisher, one of many war veterans who came to university on a federal grant, took five Frye courses and edited the college literary magazine with Frye as faculty adviser. Fisher became a socialist politician and made his name in 1957 by unseating C.D. Howe, the most powerful minister in Ottawa; he later moved to journalism and after 40 years retired as dean of the Parliamentary Press Gallery.

In the 1940s, Fisher noticed that Frye had more graduate students than any other professor, the largest audiences for his lectures and a claque of followers that no other teacher could equal. Fisher listened carefully to Frye's words and for the rest of his life cherished them. Even after 50 years he would sometimes feel the need of fresh stimulation and dig out his Frye lecture notes on a subject like the Book of Job or Thomas Carlyle.

I'm quoting from Fisher's remarks in a new book edited by Robert D. Denham,Remembering Northrop Frye: Recollections by His Students and Others in the 1940s and 1950s, published by a North Carolina firm, McFarland (mcfarlandpub.com). Denham, a professor at Roanoke College in Virginia and an expert on Frye, edited his diaries years ago. While working through Frye's hasty journal entries, he wrote to many students and friends for help explaining them. Remembering Northrop Frye brings together letters from 89 of the people who responded.

They were all Frye-ites, the term one of them uses in his reply. Others called them Fryedolators. Irving Layton invented the term Frygians, suggesting they were cold and academic, like their leader; later he changed his views. Many of them, of course, knew each other long ago, which gives this book the feeling of a reunion.