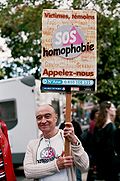 Another word from Clayton Chrusch:
A further note about Rowan Williams and the gay issue.
"The one adversarial situation that does not impoverish both sides is the conflict between the demands of primary human welfare on the one hand and a paranoid clinging to arbitrary power on the other. Naturally, this black-and-white situation is often very hard to find in the complexities of revolutions and power struggles, but it is there, and nothing in any revolutionary situation is of any importance except preserving it."
There is a class of people who discuss theological issues including homosexuality at a very high level. These are people of liberal and conservative and moderate persuasions, but they have enough in common that they can speak to each other at conferences, in academic institutions, and on the internet ad infinitem. Rowan Williams is their high priest. These are generally people who hate the brutishness of popular homophobia, but nor do they accept the popular progressive call to immediate change. They are plagued by a tentativeness that sends them back into discussion, back to scripture, back into theological studies of all kinds. The prose they produce is elegant, reasoned, intelligent, clear. Their expressions of concern for gay people and for the various sides of the debate are clearly sincerely felt. To them, the gay issue is an issue affecting real flesh and blood people, and they make a point of never forgetting that, and yet they also know that sincerity is in bed with self-deception, and so there are no easy answers and the discussion must continue, and no one should do anything disrespectful of anyone else, most certainly should not cast the issue in black and white terms or generally be loud, brash, or make a nuisance of themselves. They are the height of the intellectual world. They have every spiritual and cultural attainment except truth and obedience.
What I love so much about Frye is that he also operates at the very highest intellectual level (and spiritual level), and yet he has a conscience and guts and is not afraid to cut through all the cowardly, sissified, hand-wringing bullshit that happens there: