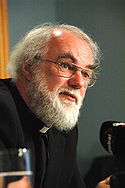 Clayton Chrusch, in response to Frye, Alter, and Rowan Williams:
I have no doubt that Rowan Williams is one of the smartest people on the planet and a prayerful and spiritual man. And yet he is a homophobe. He chooses the unity of the Anglican communion over the blessing of same-sex couples, secondary concerns over primary concerns. He has a very sophisticated and compelling theory of the body of Christ that justifies all this. I'm not saying that he is obviously wrong. He is smarter than I am. But to accept the whole of what Rowan Williams says is to deny Frye the primacy of primary concern.
Rowan Williams reminds me of Frye when he says the the crucifixion of Christ is not only something that "bad" people are responsible for, but is the considered conclusion that we all come to because it is expedient for one man to die for the people. Of course he turns this around and says that it is schism, and not the destruction of human beings that is the real analogy to the crucifixion of Christ. Two kinds of Christians. It is expedient that gays should be executed in Uganda as long as the church remains unbroken.