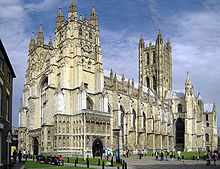 In response to Clayton Chrusch on Rowan Williams:
I certainly don't accept the whole of what he says, if that is his position concerning gays, Clayton. I certainly liked what he had to say in his preface to his Dostoevsky book. I thought it was quite impressive, and therefore I am looking forward to reading the book further. Having checked his bio out on wikipedia I can also see that he has more than just that position I don't necessarily agree with.
What you have to say reminds me, as a student of American literature, of the increasingly untenable and morally disgusting compromises on the issue of slavery that were made by the Northern States with the slave power in the South in order to avoid "schism." Any compromise was seen as preferable to the sundering of the Union, and it was all to no avail in the end anyway. The Union had to be broken.