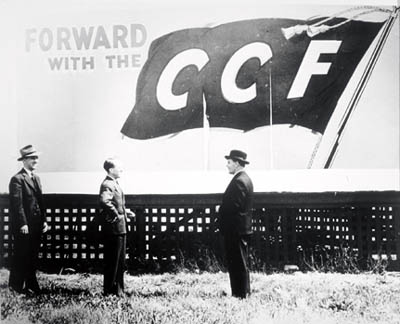 Michael's earlier post regarding Harper is in the spirit of Frye, who wrote to Helen the day after his 21st birthday:
At Confederation the Conservative and Liberal parties represented opposed urban and rural interests, but the Conservatives were in power so long that the Laurier Liberals adopted practically their platform.  So that since 1906 or 1911 or whenever it was  or, for practical purposes, since 1867  there has been no real opposition in Canada, but only occasional shiftings of government due to scandals, slogans, bribery, disgust or the long continued graft of one party, and so on.  The C.C.F. means a genuine labor agricultural opposition.  Again, it should be the typical party of Canada and the political expression of the same movement of which the United Church is the religious expression.  The connection between the two is brought out by the New Outlook.  That is why it is socialistic.  Government control of industry is essential if we are not to become a mere dumping ground for England and the U.S.A., just as a distinctive religious organization is necessary for the reasons I have gone over so often with you.
The Canadian Encyclopedia article on the C.C.F. here.