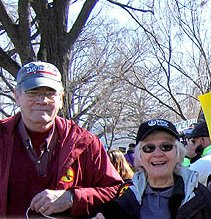 Bob with his wife, Rachel
Today is Bob Denham's birthday.
We do not have to say much about Bob's extensive work as a scholar because anyone who knows him knows about it. However, we do have much to say about Bob's contribution here. Bob, more than anyone else, has made this website what it is. It was easy enough to set it up in its present form: a daily blog, a library of resources, and a journal of articles about Frye. But all of these would have been shells without Bob's extraordinarily generous contribution. This generosity is worth detailing.
Bob has so far submitted more than 200 posts to the daily blog portion of the site in the two years since we first went online, which is a remarkable effort in itself. The blog is put together daily on the fly, and Bob's posts provide the best that can be accomplished on such short notice; and they are, not surprisingly, the most widely read. As a very modest birthday present to him, we have designated a new Bob Denham category, which means that anyone wanting to search out and read his archived posts can now do so without having to scroll through the daily entries looking for them.
Bob has also kindly archived six articles in our journal, including papers he delivered at three Frye Festivals in Moncton.
His greatest contribution, however, that makes this site a significant scholarly resource, is his patronage of the library we established under his name, and which currently holds more than 100 items, virtually every one of them bequeathed to us by Bob. These include:
* An archive of all ten volumes of Bob's Northrop Frye Newsletter, which he published between 1988 and 2007.
* Several "Previously Unpublished" items, including two notebooks, and a number of letters, among other treasures.
* Ten sets of class notes, as well as some exams, from a number of Frye's courses between 1947 and 1955. This is a singular resource to provide insights to Frye as a teacher.
* All nine of the introductions to the editions of the Collected Works Bob has edited, which make up a third of the Collected Works as a whole.
* Four lectures.
* A large sampling of reviews of a number of Frye's works.
* Thirteen "Miscellaneous Compilations" on various subjects, including chess, Islam and the Koran, and movies Frye had seen and refers to throughout the Collected Works.
If it ended here, this would constitute an exceptional contribution to the Frye scholarship to be found here. But it does not, of course, end here. Bob has also allowed us to post in their entirety two books: his first comprehensive study, Northrop Frye and Critical Method, as well as his latest collection, Essays on Northrop Frye, which includes seven new essays on Frye's relation to a number of thinkers and writers, from Aristotle to Lewis Carroll.
It is not just a courtesy to say that without him this site would not be much more than a hobby shop of Frye enthusiasm. We therefore offer our warmest thanks, and wish him a very happy birthday.