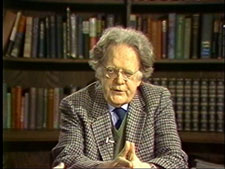 Paper read at the conference 'Canada in Eight Tongues' organized by the Central European Association for Canadian Studies and Eötvös Loránd University, Budapest, October 21-22, 2011
More often than not, discussing Frye is a reward and treat. That I have been invited to speak to you about Frye among learned women and men of letters is also a great honour, which I worry I shall not be able to live up to. After all, I am just a practical translator, not one who can deliver gems of theory. Moreover, I have been an unfaithful Frygian, who now finds it difficult to pick up the thread. But perhaps some of my insights might be worthy of your attention.
I first heard Frye's name from a professor I perhaps unfairly hated. He mentioned Frye as an example of mythopoeic understanding of American history, and, as I had already come to the sophomoric conclusion that history was a nightmare from which I was trying to awake, I thought I had no time for any concept embracing history, let alone a reductionist model of history. Then I remember desultorily picking up a copy of the TLS or the New York Review in the English department library in Debrecen and reading of a Canadian professor capable of making sense of the Bible in literary terms. I instantly knew this was something I had been looking for. I asked the librarian to order the book, which was rather unusual for a student and for such a subject matter at the time. This was in 1982-83, when, though rotted at the core, communism was still showing no sign of collapsing. For all I know, the request may have been conveniently forgotten. The book eventually got to me through the U.S. Presbyterian Reader Service about two years later, and it lived up to my best expectations.
I am a PK, a priest kid; I had gone to a protestant school founded in 1538, and, as a 16-year-old snob, I had tried reading my Milton in the original from a time-worn octavo in the reading room of the old library. I had a keen sense of my cultural tradition, but a likewise keen sense of the stuffiness of the church I was brought up in, being marred by teaching a compromise with communism and a hopelessly outdated, shallow piety. However stifling this illuminating-tradition-turned-ghetto seemed to me in the late 1970s, the Marxian stance of the immediate world outside, particularly its fresher, seemingly truer Lukácsian brand, could hardly have had a lasting attraction for me, not to mention the fact that it soon went down like ninepins. But the lacklustre anti-metaphysical attitudes it was leaving behind seemed to me unimaginative and bleak. What was cast out of official and semi-official intellectual inquiry most lured me – irrationalism, esotericism, and archaic modes of thought, identifying the accidents of our existence with myths and archetypes, as brilliantly expounded by Mircea Eliade, whom I later happened to not-so-accidentally translate. This was walking on thin ice because archetypal repetition, for all its spiritual imaginativeness, implies a necessity that leads to authoritarianism on the social plane – recall Eliade's own Romanian Nazism. This is particularly dangerous in Central-East Europe where archaic attitudes were not naturally outgrown, but trampled underfoot by communism. Though I believe I was always aware of this danger, I was much in need of saving.