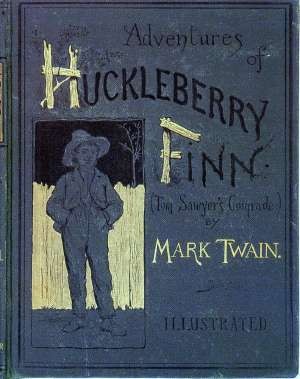 The first edition of Huckleberry Finn, 1885.
Yesterday was Mark Twain's 176th birthday. Huckleberry Finn seems to have been a treasured text from Frye's youth. He noted that his personally favorite archetypal theme was katabasis, or descent, and Tom Sawyer (the protagonist for whom Frye appears to have had an abiding distate) along with Huckleberry Finn provide a powerful rendition of it. There's a story, perhaps apocryphal but still interesting in itself, that Frye as a first year undergrad at Victoria College wrote home to have his copy of Huckleberry Finn shipped to him because the copy he had didn't fall open at the right places.
There are any number of quotes to be culled from Frye on the novel, but this one from "National Consciousness in Canadian Culture," is especially resonant, with Twain's birthday in mind:
Everyone quotes the penultimate line in Huckleberry Finn about lighting out for the Territory, but less attention is paid to the even more significant last sentence: "I been there before." There can be no creative return to the past; the past is absorbed into the future. . . .