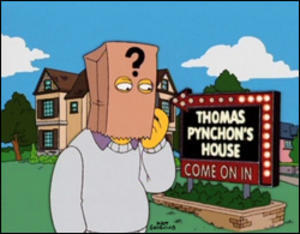 A note from Michael Sinding:
Regarding Pynchon and Menippean Satire:
Charles Hollander notes that at Cornell, Pynchon also took a course with M. H. Abrams. As Abrams reviewed Frye's "Anatomy," it is possible that Pynchon picked up the idea of the genre from that class. Hollander reported the course with Abrams in "Pynchon Notes," and suggested the connection with Menippean Satire at a recent conference. He doesn't give the year in which Pynchon took the course, but says Pynchon graduated from Cornell in 1959.
The term Menippean satire does not occur in Pynchon's writings. But as Hollander's note shows, Pynchon wrote a paper (which Abrams later quoted to students) comparing Voltaire's "Candide" with Samuel Johnson's "Rasselas." Both of those books are (or can be seen as, if you're fussy) Menippean satire, and that might have led Abrams to talk about the genre.
"Abrams Remembers Pynchon." Pynchon Notes 36-39 (1995-1996): 179-80.