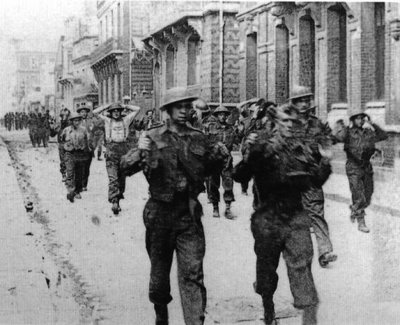 1942: The recent Dieppe raid, which was soon to be an acknowledged disaster, continues to preoccupy Frye (Canadian prisoners pictured above).
[84] I resolved today to (1.) keep up my diary (2.) read all the books I own, before reading much else (3.) write Blake (4.) practise Byrd. Saw Beverley Burwell, who looks taller & older & tells me Jerry Riddell has gone to Ottawa for [censored]. He's pessimistic about the war. Bickersteth's letters home are mimeographed & circulated & contain many vicious comments about the War Office: full of antiquated crocks hanging on to their salaries & avoiding being pensioned off on various pleas of emergency. He seems to feel that the German account of Dieppe as a foozled invasion attempt was correct: I'm not sure; it's too symmetical. Of course if it proved only that Canadians are not cowards it didn't prove much.
1950: A day trip to Salisbury Beach, Mass., with Frye's U of T colleague, Ruth Jenking. 
[576] I find the Newburyport turnpike a bit dull, as a road, but Ruth talked easily, she was so relieved to get through with Harvard. The one thing she got from her summer is some understanding of [John C.] Pope's study of The Rhythm of Beowulf, which, incidentally appeared in 1942, the year of my Music and Poetry article, and if I reprint my essays I may say that this article is a footnote to Pope's book. Or, in the words of the oracular cliche, I may not. Anyway, the proper way to read Old English is crystal clear to her now, and as it's a revelation in itself she feels it almost makes up for a very dull summer.
Tomorrow: the formal causes of literature and a young woman in a bathing suit