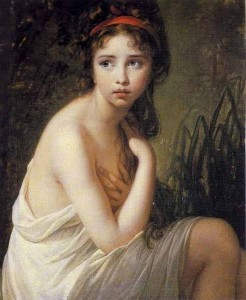 1942: Frye and his drinking buddy George Beattie join Helen and Ruth Jenking for a night of "pounding hell out of" Mozart:
[87] Discovered something called Allergitabs, which make me feel funny but seem to work. Picked up that souse George Beattie at the pub and then went to a kosher place on College & Spadina, George making love furiously to Helen all the way. Then to Ruth Jenking's where we pounded hell out of a couple of Mozart fantasias — amazing things he wrote in 1791 for music boxes, his last year when he was picking up anything he could get in the way of a commission.
1950: Hay fever, the formal causes of literature, and beauty:
[580] Well, today the sea breezes blew ragweed at me all day long, & I had, quite simply, one hell of a time. I didn't feel able to go swimming — I knew that if I tried I'd start sneezing my fool head off. So I stayed on the verandah or on the beach and scribbled at my paper. A young girl here about eighteen…kept playing around me with a dog. She wasn't especially pretty or intelligent looking, but her body — she was in a bathing suit — had that extraordinarily beautiful feeling of youth & health about it, & with this lovely & nearly naked figure hovering in my line of vision I had some difficulty concentrating on the formal causes of literature.
Tomorrow: hay fever notwithstanding, a breakthrough on the formal causes of literature