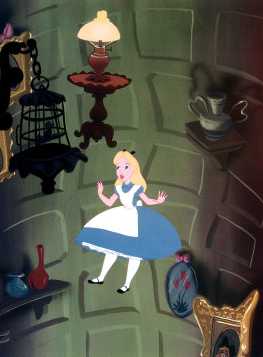 I thought I might create a little game out of my last post on The Secular Scripture. I am going to call it "The Stages of Descent-and-Ascent Contest." The point is to encourage anyone out there–regular and occasional contributors, or silent visitors and lurkers of any kind (we'd like to her from you!), whether scholars, teachers (of elementary school and beyond), just plain avid readers and thinkers, amateurs of literature, ideas, and the imagination–to take a look at the stages of descent and ascent (which I will post again here), and comment with any examples you can think of from literature (which includes plays and most definitely film and television as well) of the different stages I have sketched out in my summary. Feel free to elaborate on any examples you come up with, to develop or explain their particular significance. Also, any discussion, corrections or refinements of the scheme I have come up with are equally welcome.
And don't worry if some of the examples you come up with happen to be ones Frye uses himself in The Secular Scripture or elsewhere (such as Words with Power where an analogous scheme is at play in the second part of the book). In fact, it would be helpful,  since his range is so great, to know of  good examples from his other writings, published and unpublished.
But the real fun is often in discovering examples in literature and film where you might not have expected.
I call it a contest, but it is really a co-operative game, and an ongoing research project, one that I have often played with my students when we read The Secular Scripture. The results are always stimulating, and invariably validate Frye's remarkable insight into literature.  Eventually,  I'll compile them and post the results.
Here, again, is the descent/ascent scheme:
STAGES OF DESCENT:
Stage One (Departures from identity, turning on a loss of status, cognition, amnesia, or break in consciousness of some other kind):
Displaced or mysterious birth, hence removal from rightful parents
Mother and child threatened in various ways: shrouding and hiding of mother, flight and exile, birth in secrecy, oracular announcement to frighten the father or father-figure
Wrath of a god (or surrogate figure in fiction), usually incurred by boastfulness
Usurping of reason by passion, as in jealous, irrational anger, or in rash vow
Amnesia through drugs, love potions, catalepsy, etc.
Break in consciousness of some other kind: traumatic event that leads to a dramatic change in status, mental state, or identity
Falling asleep, entry into a dream world, forest (pursuit of false identity), close to metamorphosis or enchantment theme
Stage Two (Loss or confusion of identity):
Disguise: woman as a man most commonly; man as a woman
Disintegrating of the family or blood connections
Separation of the two brothers, or friends
Twins
Change of name
Mirror selves or worlds, doubles, etc.; doubling of characters such as doubled heroine device
The undisplaced form of disguise is metamorphosis, human transformed into a "lower" or animal form of life (as in Ovid, or the fall into the ass of Apuleius)
Confusion of ranks, social strata: the king is disguised as a beggar, the hero as his own servant
Doubling patterns in general: two friends, two brothers, two sisters, two sexes: with contrast as well as similarity in doubling
Stage Three (Descent into lower reaches of the "Night World"):
Ritual Ordeal of suffering as rite of passage, part of cycle of death and rebirth
Increasing loneliness, alienation, calumny or false accusation
Sinking into silent, dumb world of unconsciousness: oracular animal helpers, mute figures
Doppelgänger motif, along with objectifying imagery (mirrors and clocks): world in which everything. is an object, including the human subject
Cannibal feast: human and animal worlds assimilated in world of human carnivores
Human sacrifice (to monster, dragon, or equivalent)
Lower world as cave resembling belly of monster or womb of earth mother
Excremental vision of Rabelais and Swift (material lower bodily substratum)
Bottom: scene of apocalyptic judgment: demonic parody of upper world judgment: false hostile accusers, accusing memory
Point of nothingness
STAGES OF ASCENT:
1. Escape
Reversal of the terror or awe-struck state in lower world through a revolt of the intelligence, often accompanied by laughter
Houdini motif: convention of Escape or impossible rescue scenes that predictably always turn out happily, or the impossible riddle that is always solved
Recognition scene: in comedy hidden brought to light, true identity discovered followed by marriage
Conscious separation from the demonic as demonic, detachment from illusion/breaking of enchantment
Reversal of downward, Ovidian metamorphosis
Reversal of twins or doppelgangers
separation and polarization of double heroines
separation and polarization of progressive or regressive characters forwarding or retarding "festive conclusion"
2. Remembrance
Reversal of break in consciousness and restoration of "broken current of memory" and continuity of action following 1) recognition of demonic 2) separation from regressive elements
Higher themes of ascent: talisman of recognition theme, restoration of memory "total cycle of recognition" from descent to reunion
Theme of recovery from sea: birth of hero
3. Recovered Identity
Divergence of comedy and romance at this point of ascent–theme of comedy predominantly social, while world of romance (pastoral, Arcadia) suggests higher state of identity
World of recovered identity in romance not that of isolated individual but of society in higher world above ordinary experience
Polarization that transcends cycle of nature vs. "ironic" cyclical images of nature and human life
Eros theme that transcends cycle
Ascent imagery: climbing, flying, mountains, towers, ladders, spiral staircases, shooting of arrows, coming out of sea onto an island
Movement upward to self-recognition–reversal of Narcissus, twin, and doppelganger themes
Two forms of upward quest: 1) sublimated quest ending in virginity (sister or daughter figure) 2) sexual quest ending in marriage (identification of bride's body with paradisal garden)
Virginity here is an image of attaining original identity
4. Growing Freedom:
Imagery of time and space:
1. transcending of fatality and destruction–energy, exuberance, genuine freedom identified with discipline–symbol of dance, identity of order of nature as dance;
2. similarly, space not "out there" but "here," home–upper world garden of Eden– nature rejoined with human society as home
5. Breaking of Enchantment
Overcoming of ironic and tragic nature of natural cycle and frustrated Eros
Reversal of pictures, tapestries, statues, mirrors that are the threshold of descent narrative suggesting exchange of original identity for shadow or reflection