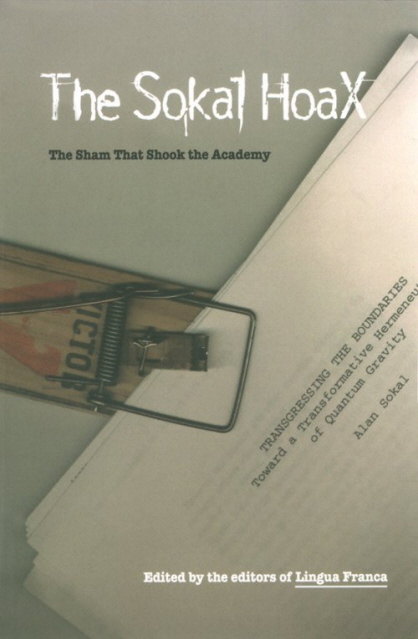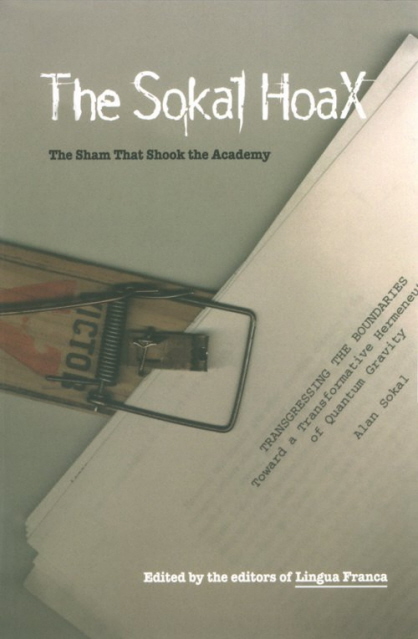 Michael Bérubé has an article in the liberal quaterly Democracy on the Sokal Hoax.  You can read the entire thing here.
An excerpt:
What, you ask, was the Sokal Hoax? While I was chatting with my colleagues at the Postmodern Science Forum, New York University physicist Alan Sokal, having read Higher Superstition, decided to try an experiment. He painstakingly composed an essay full of (a) flattering references to science-studies scholars such as Ross and Stanley Aronowitz, (b) howler-quality demonstrations of scientific illiteracy, (c) flattering citations of other science-studies scholars who themselves had demonstrated howler-quality scientific illiteracy, (d) questionable-to-insane propositions about the nature of the physical world, (e) snippets of fashionable theoretical jargon from various humanities disciplines, and (f) a bunch of stuff from Bohr and Heisenberg, drawing object lessons from the uncertainty at the heart of quantum mechanics. He then placed a big red bow on the package, titling the essay "Transgressing the Boundaries: Toward a Transformative Hermeneutics of Quantum Gravity." The result was a very weird essay, a heady mix–and a shot heard 'round the world. For Sokal decided to submit it to the journal Social Text, where it wound up in a special issue edited by Ross and Aronowitz on . . . the "Science Wars." Yes, that's right: Social Text accepted an essay chock-full of nonsense and proceeded to publish it in a special issue that was designed to answer the critics of science studies–especially, but not exclusively, Gross and Levitt. It was more than a great hoax on Sokal's part; it was also, on the part of Social Text, one of the great own-foot-shootings in the history of self-inflicted injury.
Cannily, Sokal chose Lingua Franca, a then-influential (since folded) magazine that covered the academy and the humanities, as the venue in which to publish his "gotcha" essay, in which he revealed that the whole thing was a great big joke. And as if on cue, Ross and Aronowitz fired back almost precisely as Sokal believed they would: Aronowitz called Sokal "ill-read and half-educated," while Ross called the essay "a little hokey," "not really our cup of tea," and a "boy stunt . . . typical of the professional culture of science education." Aronowitz and Ross had every reason to feel badly stung, no question; but the terms of their response, unfortunately, spectacularly bore out Sokal's claim that "the targets of my critique have by now become a self-perpetuating academic subculture that typically ignores (or disdains) reasoned criticism from the outside." It was not hard to wonder, after all: If indeed Sokal's hokey boy-stunt essay was not really your cup of tea, why did you publish it in the first place?
For many people, the answer to that question was simple: because the theory-addled, jargon-spouting academic left, of which Social Text now stood as the symbol, really didn't know squat about science and really was devoted to the project of making shit up and festooning it with flattering citations to one another's work. It was what critics believed all along, and now they had the proof. The disparity of audience response was–and remains–stark: In my academic-left circles, Sokal's name was mud, his hoax an example of extraordinary bad faith; everywhere else, especially on the rest of the campus and in the world of journalism, Sokal was a hero, the guy who finally exposed the naked emperor (and there was much talk of naked emperors) and burst the cultural-studies bubble that had so drastically overinflated certain academic reputations–and academic egos.