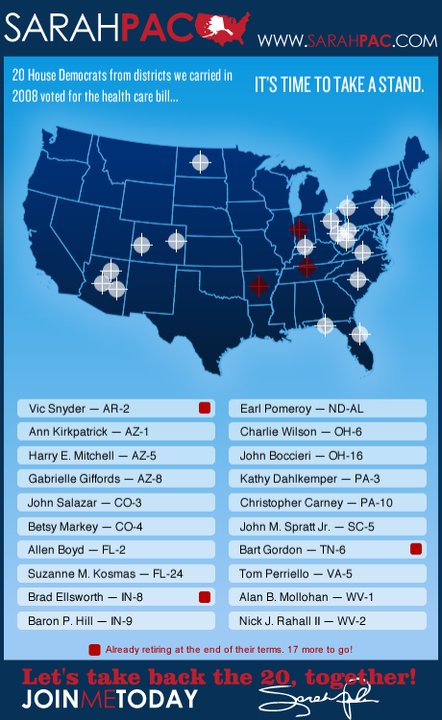 Democratic Congresswoman Gabrielle Giffords was shot in the head today in Tuscon.  At least eleven others were injured.  It may be that five of them, including the congresswoman, have died.
When the graphic above was released by Sarah Palin's political action committee last year, it caused a stir, and it's not difficult to see why.  The political "targets" here are literally in the cross-hairs.  Today one of them was targeted for assassination.
The eliminationist rhetoric of the right is not new.  It's been around for a while, and it was just a matter of time before someone decided that it is not merely a figure of speech.  "Traitors" get what's coming to them eventually.
What is most disturbing about the Palin graphic is how she personalizes it — "Join Me Today."  That's not an abstraction.  That's a cult of personality with a more or less open agenda for violence.  So, okay, Sarah.  We're going to hold You accountable.
Not that it will likely make much difference.  Advocates on the far right have been laying the groundwork for this day by repeating for months now that the "left" will be responsible for any occurrence of violence because it has been baiting its antagonists.  Glenn Beck has said so explicitly and repeatedly — he did so as recently as yesterday.  Everyone will scramble to deny this, and just enough people will buy into the denial.
I'm calling this one in the air: those most guilty of this egregious behavior will produce pious statements of sadness while denying that their words are in any way responsible.  Within the week Fox News will be asking some form of the question, "Did the Democrats bring this on themselves?"  Any effort to link the assassination to violent rhetoric on the right will be drowned out by escalating squeals of indignation.
At this point, the script just about writes itself.  We already know how this goes.