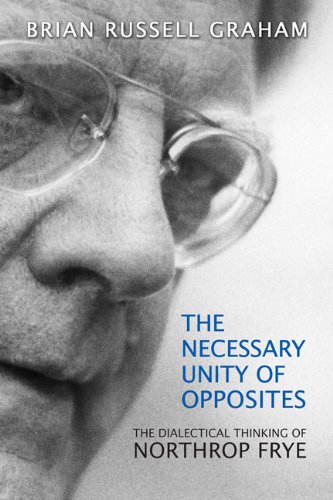 Brian is a graduate of the University of Glasgow. He has written extensively on Frye and has published a number of reviews of the Collected Works. He is an assistant professor at Aalborg University in Denmark.
My monograph on Frye, The Necessary Unity of Opposites, has just been released by the University of Toronto Press. The study deals with each of the main areas of Frye's work: Blake's poetry, secular literature, education and work, politics and Scripture. For Frye, the history of ideas is characterized by sets of opposing values which result in repeated cyclical movements in that history. However, Frye's thinking, I argue, can be thought of as a dialectical, "suprahistorical," and – in the secular context – "post-partisan."
In each area of interest, Frye deals with the fact that opposing ideas represent a unity; that is, they are "in agreement" with one another. The nature of the "agreement" is different  in each case: beauty and truth are "in agreement" because they both inhere in Blake's poetry and, more generally, secular literature; leisure and work are "in agreement" because, complementing one another, both must be incorporated into the life of the individual in society; freedom and equality are "in agreement" because the two are simultaneously achievable in society; belief and vision are "in agreement" because the individual must manifest both in his or her own identity. But, in each case, "agreement," and therefore unity, characterizes the opposition.
Throughout my study, I contend that it is the thinking of Blake which provides the inspiration for Frye's dialectical thinking. More specifically, it is Blake's conceptions of innocence and experience which provide the inspiration for Frye's characteristic mode of thought.
In part, my study also attempts to explain the appeal of Frye through consideration of the relationship his thinking bears to what I call the ordinary history of ideas, with its political divisions. I conclude my study with a consideration of Frye's thought in relation to "end-of-history" theses, drawing out the implications of my argument that Frye's thinking can be described as "suprahistorical."
A study of Frye as a dialectical thinker. An examination of Frye as a thinker whose ideas can be described as "suprahistorical." An investigation into the notion that Frye's thought is "post-partisan." And a thorough exploration of the nature of Blake's influence on Frye. In writing The Necessary Unity of Opposites I discovered that these four projects are one in the same, a much-needed fourfold study of Frye, which ideally does justice to each concern.