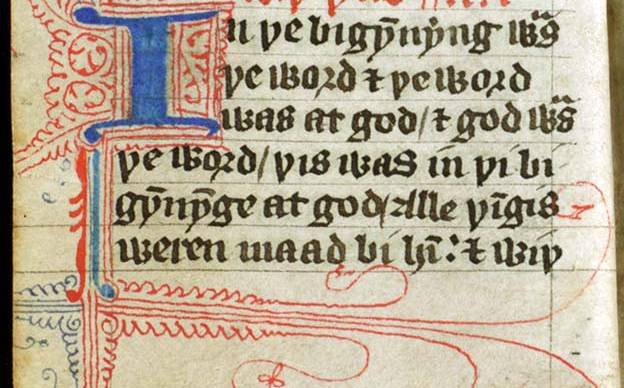 The opening of the Gospel of John from the Wyclif Bible (completed 1385): "In the beginning was the Word"
John Wyclif was declared a heretic by the Council of Constance on this date in 1415, twenty-nine years after his death. His books were burned, his body exhumed and burned, and his ashes scattered in the River Swift.
Despite this effort at obliteration, he remains The Morning Star of the Reformation.
Frye in "Symbolism in the Bible":
Already in the Middle Ages, the question had arisen of translating the Bible into the vernacular (or modern) languages. It was resisted by authorities of the Church establishment, partly because the issue very soon got involved with reform movements within the Church. One of these reform movements was led in England by John Wyclif, a contemporary of Chaucer in the fourteenth century. His disciples, working mainly after his death, produced an English translation of the entire Bible, which of course was a translation of the Vulgate Latin text, not of the Greek and Hebrew. Nevertheless, the Wyclifite Bible became the basis for all future English translations. (CW 13, 420)