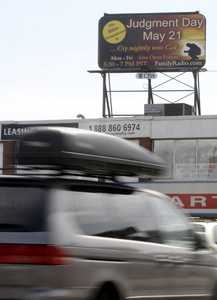 Billboard announcing the end of the world on Main Street East in Hamilton, Ontario (photo: Barry Gray, The Hamilton Spectator)
May 21, at about 6 pm. At that time, the righteous will be Raptured (finally!), while the rest of us will be left behind to burn in eternal hell fire clean up the mess.
I love my hometown, but when end-of-the-world-mania reaches a place like Hamilton, it's so over.
Story in The Spectator here.