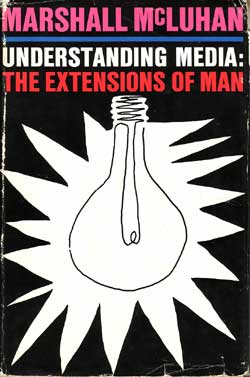 Wednesday I'll be posting the compilation of Frye's references to Marshall McLuhan that appear in the Collected Works.
I want to make a few observations here, which I don't intend to be a definitive. I will be writing a longer paper to provide a broader perspective and a more detailed account. However, I think the following points can be responsibly made.
First, Frye's references to McLuhan require 20,000 words to render them, suggesting that he read and thought about McLuhan's work extensively. He certainly referred to it in his published work wherever the situation allowed. His private notebooks likewise suggest deep engagement, although with an added and characteristic tartness ("global village my ass"; "that blithering nonsense 'the medium is the message'").
Second, his observations are as consistent as his inquiry is thorough. There are more than forty years worth of references here, and they are remarkably free of any notable contradiction.
Third, Frye's critical assessment of the core elements of McLuhan's thought reveals that they are unacceptable to him. On the other hand, Frye's published references to isolated aspects of McLuhan's work tend to be generous and are regularly cited to make a larger point. Although Frye is careful to distinguish McLuhan from what he at one point calls the "nitwitted McLuhanism" of the 1960s, his frank critique of McLuhan's work as a whole stands.
Finally, the elements of McLuhan's thought Frye is most critical of are also those most familiar to general readers, including his formulations regarding "the global village," "the medium is the message," and the linearity of print versus the simultaneity of electronic media. It is the last notion especially that Frye believes compromised McLuhan's work, and he returns to it on a number of occasions.
Below is a small but representative selection of quotes that captures some of this.