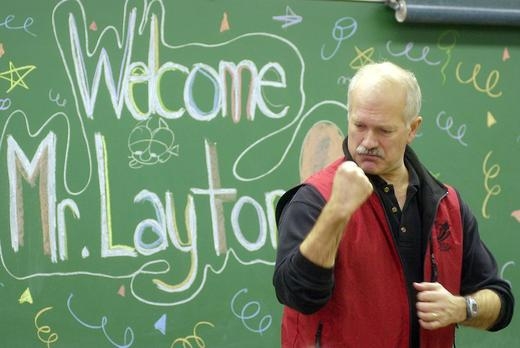 The national mourning for Jack Layton has caught the attention of the foreign blogosphere. A Quebecer wrote in to Andrew Sullivan today with a heartfelt explanation (below) of Layton's improbable appeal in Quebec. Layton's political accomplishment is a singular one in Canadian history and may have realigned the Canadian electoral landscape for a long time to come. This is something the Conservatives really need to worry about, and their response will not likely rise above the debased standard they have set for slander and intimidation. Layton demonstrates what a decent person can bring to an otherwise toxic political environment. Like the old school leftists, he was a happy warrior with an antiquated notion that politicians should serve the interests of people instead of corporations.
First of all, a caveat: I'm a French-speaking Quebecer and it's the first time I write a political comment in English. So I want to apologize in advance for the incoming grammar and syntax errors and gallicisms. (Oh, and another one: I didn't vote for the guy. I'm not a party hack either; I'm an independent.)
There's a huge something left unsaid in the passing of Jack Layton, either in your reader commentary or Mr. Horgan's. It's the impossibility of Layton's career that makes him so remarkable as a person. This man was what we call in Quebec a "maudit anglais" – a damn Englishman. A scion of one of the great colonial families that ruled Canada from the Golden Square Mile in Montreal, whose forebears were ministers for the Conservative Party. He became a leftist in the '70s and surged as the leader of the NDP (the Canadian version of the Labour) in the last decade. In the last election he gave the NDP its best results ever AND was able to beat the nationalist Bloc Quebecois on its own turf. He ended the career of the most popular politicians in Quebec, Gilles Duceppe, son of the great Quebecer actor Jean Duceppe. He broke the back of the Liberal Party (which was still called the Natural Ruling Party of Canada three years ago).
This is awesome. This is incredible.
The political pundits in Canada were still wrapping their head around this when Jack Layton passed away. The only way I could explain that is by offering two weak analogies: imagine in the UK a charismatic Protestant defeating Gerry Adams and winning almost the Catholic ridings in Northern Ireland PLUS giving the Labour such a beating that it would fade in third party status. Or imagine a Castillan becoming the popular leader of the Basques. It doesn't make sense!
In all the history of Canada, Quebecers NEVER gave a majority of their votes to an  ethnic English party leader (and a Protestant to boot, even if religion doesn't hold much sway anymore in Quebec politics). Never. Irish, Scots – rarely. English, ha! People say that politics are civil in Canada. They don't know Quebec, 
where the toxicity level is quite high and identity politics and class warfare are part of the game (it's not Arizona, but frequently things are said here that would give the creeps to many pundits).
But the guy had this super smile, and said things like "When I'm Prime Minister, I'll hold China accountable for its treatment of Tibet" with a willful look. And people tended to believe him because he got results, however seemingly impossible the objectives. He also had dignitas without unnecessary gravitas.
So this idealist (quixotic?) bloke from uptown, who speaks a hesitant French, with a moustache and a cane, changes the face of politics in the spring and dies by the summer, leaving us with a dream of purpose and appealing to our better selves. And leaving the left decapitated in front of the most conservative and ideological government Canada ever had.
I'm still shocked.
I tried all day to find an historical character to give a reference to a stranger to Canada. Perhaps a mix of Wilberforce and Zola, with a touch of RFK? A Gracchus without the anger? A Nick Clegg with a spine? Al Gore for the principles but without the stiffness, Ted Kennedy for the political acumen but without the sleaziness, likeable like Joe Biden but with speech discipline (for lack of a better word) and facial hair.
I hope this gives some perspective on this remarkable man.
(Drawing by Colin White)