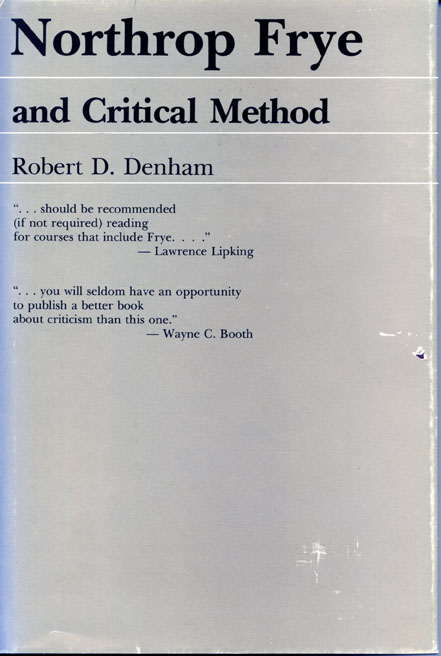 We are just applying the final touches before posting Bob Denham's latest collection of essays on Frye, including eight new titles: "Frye and Aristotle," "Frye and Giordano Bruno," "Frye and Henry Reynolds," "Frye and Robert Burton," "Frye and Soren Kierkegaard," "Frye and Mallarmé," "Frye and Joachim de Floris," and "Frye and Lewis Carroll."
I think we can safely say that this is an event. And it should (fingers crossed) occur by Friday.
Until then, be sure to check out Bob's other work in our library. It's a remarkable collection, including all ten volumes of his Northrop Frye Newsletter; his classic Northrop Frye and Critical Method (in its entirety, we are very pleased to say: that's an earlier print edition pictured above); all nine introductions to the volumes of the Collected Works he edited; four previously unpublished lectures; a number of indispensable compilations of Frye on topics like chess, Islam and the Koran; some miscellaneous Frygiana, and a remarkable collection of all of the movies that Frye saw up until at least 1955.
Let's put it this way: the library collection is comprised almost completely of bequests from Bob, which is only one reason that we call it the Robert D. Denham Library. The other is that he is and always will be one of the greatest Frye scholars we can ever hope to see. So go in and browse. There's treasure in there. We promise that you will find something you've never seen before.
And, as long as you're browsing, maybe peek in on our journal as well.