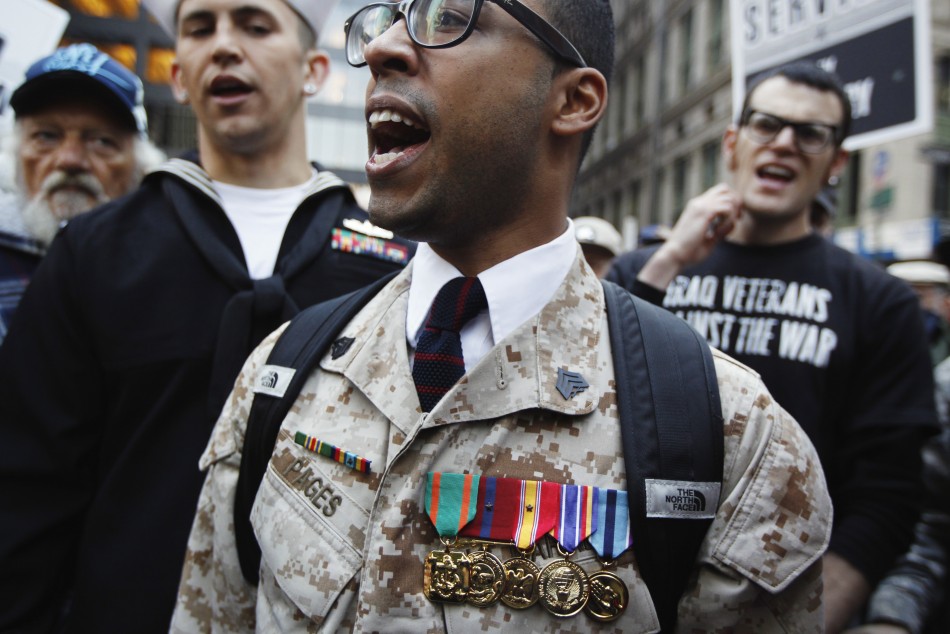 The Atlantic has an article on war veterans who've organized against the war in Iraq and are now joining the Occupy movement. One of them, Scott Olsen, who is 22 years old and served two tours with the U.S. Army marines in Iraq, was shot in the face with a tear gas canister by police at Occupy Oakland two weeks ago. Here's an excerpt from the article, which can be read in full here:
At Occupy DC, a painting of Scott Olsen in uniform is draped on the side of a tent. He's become a symbol of the Occupation Movement — he fought overseas only to be injured when exercising his "freedom" of peaceful assembly at home. His name has become a shorthand to talk about why so many vets are at Occupy Wall Street.

"There's a reason Scott Olsen got shot in the head," says Patterson, looking down at his chain-restaurant hot cocoa. "Because he was out front."

Patterson still sports a military haircut and a bit of the Army swagger. He also has a touch of that telling hyper-awareness war vets sometimes display; he's a little twitchy, a little intense. He tells me he has PTSD and has been self-medicating with weed. He says it helps. What's also helped is being a part of this protest movement. "This is the only peaceful solution," he says. "If this movement doesn't work, our country is not going to make it … We're just not going to make it." Patterson became an interrogator in Iraq straight out of high school. His mother had to sign his enlistment papers. He turned 18 in Basic. "We're an industrialized nation who's a third world country. The super wealthy elite pretty much control our democratic process and everyone here is pretty much fighting for scraps and that's not right," he says.
It's not just that the police are using escalating violence against demonstrators — video of which we've been posting — it's that they are encouraging by their actions that others do so. On two separate occasions, people have driven their cars into Occupy demonstrations, hitting and injuring people who were in the way. On both occasions, the police did not even detain, let alone charge, the persons involved.
Video of the Scott Olsen incident in an earlier post here.
Think Progress has an article on why veterans are joining the Occupy movement here.