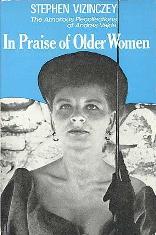 Alan Adamson has pointed out that director Mary Harron is the daughter of Don Harron, establishing a link between Frye and American Psycho.
I suppose by this logic, we've also got a link to Stephen Vicinczey's In Praise of Older Women (novel by second husband of Mary Harron's mother). If, as Frye says (following Whitehead) that "everything is everywhere at once," then we won't be disappointed in finding links.
Frye, incidentally, wrote a dust jacket blurb for Vizinczey's erotic novel, the request for which rather mortified Mary Harron's mother–Gloria Fisher Harron Vizinczey.