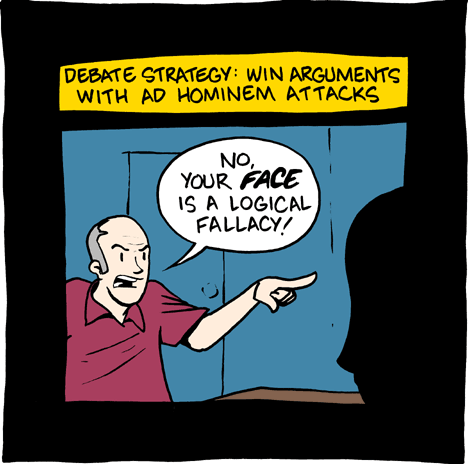 Responding to Michael Sinding:
I really liked this post, but I'd like to focus on the paragraph I disagree with about the use of ad hominem.
Ad hominem fallacies make an inference from a person's character or motivations to the falsehood of their ideas. Making statements about a person's character or motivations in itself is not fallacious, nor is the belief that a person's character can affect the quality of their ideas.
Statements about motivations are not unduly speculative. They constitute practical knowledge that we cannot live without. Similarly they are not unanswerable, since human relationships often depend on clarifications of motivation.
"Obnoxious motivations" are not always inventions, they are often clearly perceived realities.
Your point about ad hominem statements missing the point is very debatable as well since the truth of an idea is not something that adheres to the idea alone, but it is something that depends on a person's motivations for holding the idea and a person's way of putting that idea into practice.
I agree that speaking to the best representatives of an idea should be a basic principle for furthering knowledge, but in the real world we often don't have the luxury of ignoring everyone we would prefer to ignore.
These are principles that go way beyond literary studies, and so its important that we don't insist here that reality be nicer or more PC than it actually is.