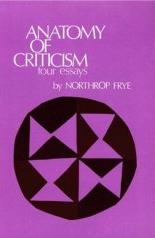 Responding to Joe Adamson:
I'm not anti-archetypist. I'd actually like to see more of this kind of spirited defence of the the term and the concept.
The reason I suggested Frye's word choice was a disaster and not just a misfortune was that I think archetypes are very important, and that they are so easily dismissed actually is a disaster.
I was having lunch last week with a good friend on the other side of the critical divide (I said imagination was the matrix of human meaning and she said it was ideology) and when the conversation came to archetypes, what I really needed at that moment was not a more profound appreciation of archetypes but short and simple responses to all the common criticisms:
1. What did Frye actually mean by the word?
2. What are some examples other than hero and whore?
3. Aren't archetypes psychological entities described by Jung?
4. How can you say archetypes are universal when they are based on northern hemisphere climate imagery? Aren't Frye's archetypes Eurocentric?
5. How can transcendent entities have any explanatory power?
I muddled through but was disappointed by inability to offer good answers to these questions.
What would you, Joe, or anyone else have answered?