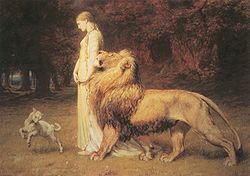 Trevor Losh-Johnson,  in response to Bob Denham's Frye on Archetype:
Thanks for such a helpful post! I am wondering if Frye addresses anywhere the difference between archetypes that refer to an exterior model (which seems to be his primary concern in this vein) and archetypes that become so by repetition within the bounds of the individual text. By the latter I mean either motifs that become loaded images through repetition, such as crystalline optical illusions in Nabokov, or exterior archetypes that assume different connotations through repetition. I may be confusing his literal and mythical symbolic categories, but the lamentable paper I am writing on Spenser has forced the question.
I am looking at Frye's essay on imagery in the Faerie Queene, and it seems like a model of archetypal criticism. It is mostly dedicated to imagery as it fits with exterior models, analyzing, for one of many examples, the Venus/Adonis/Diana motifs in the context of the Virgin Mary and the Pietà. This has brilliant implications for Glorianna and the structure of the knights' quests, but I can't help but wish he had better outlined how such imagery of chastity and rebirth inveigles itself into other episodes of the poem.
In his notebooks, Frye does address the latter sorts of motifs, in one case noting how in Book I the lion imagery follows Una around [see the painting above, "Una and the Lion" by Briton Rivière (1840-1920)"], first as an actual lion and then as a series of similes describing both her assault by Sansloy and her rescue by the satyrs. In that case, the different connotations of regality, ferocity and savagery seem to to work their way through different inflections at each appearance. This appears to be a great example of archetypal transvaluation, but his emphasis in his essay proved to be towards archetypes that refer to the larger economies of literature. It would also be helpful to know if, such as when he claims that there is Adonis imagery in the first couple books that do not directly refer to the character in the later books, we can connect episodes that are not explicitly connected