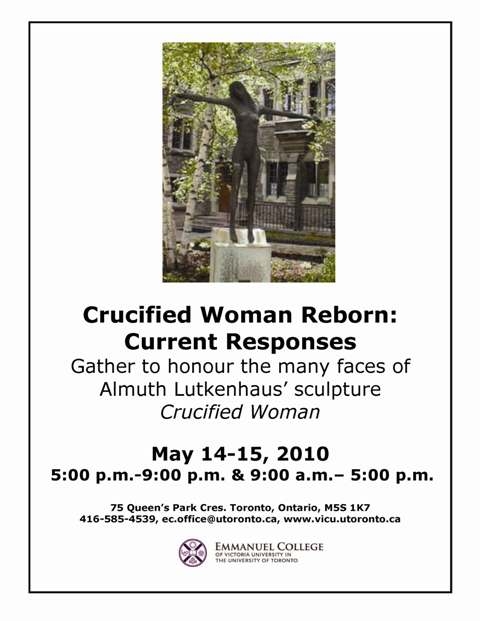 Please join us at Emmanuel College on May 14 and 15 for "Crucified Woman" Reborn: Current Responses, a conference in honour of the sculpture by Almuth Lutkenhaus-Lackey and all that she represents.
Conference speakers and workshop leaders will include: Doris Jean Dyke, author of Crucified Woman (1991); Rita Leistner, photojournalist; Marjory Noganosh, Ojibway elder and healer; Pat Capponi, writer and activist; Noelle Boughton, author and editor; Marion Botsford Fraser, writer; Sophie Jungreis, artist; Samantha Cavanagh, artist and dancer; Property Smith, harm reduction worker specializing in work with at-risk youth, drug users, and sex trade workers; and Anne Hines, author and humour/lifestyle columnist.
We also invite submissions of poetry on topics related to and/or inspired by the sculpture. We hope to be able to publish a selection of the poems submitted (subject to their approval by a selection committee and the obtaining of a publisher) together with the proceedings for the conference.
Please pass on the information and the poster to anyone you think will be interested. (Click here for the registration form and here for the conference program.)
Warm regards and hope to see you there!